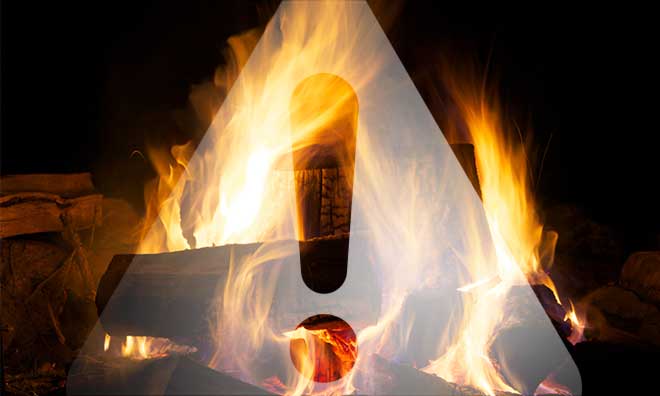 Before you burn
Fire permit holders are required to contact Strathcona County before every burn to see if burning is allowed.
Call the Burning Status Line at 780-464-8464. This is a 24-hour automated line, or
Text the word "BURN" to 587-340-3696 to receive an immediate reply.
Frequently asked burning status questions:
A fire advisory is an extended suspension on any fires requiring a burning permit.

An advisory only allows for:

recreational fires in covered fire pits, bowls or chimineas
approved fire pits within recognized campgrounds and parks
propane and natural gas appliances

All other fires are not permitted. Fire and fireworks permits are suspended until the advisory is lifted.

A fire ban is when no outdoor fires are allowed, including burning barrels, fireworks, recreational fire pits and charcoal barbecues.

Emergency Services compiles and reviews current and forecasted data such as humidity, ground moisture, temperature and precipitation specific to Strathcona County. This information determines the Fire Weather Index. There are five levels to the index, low, moderate, high, very high and extreme.

Other factors reviewed include:

Risk of a fire getting out of control
Relation between temperature and humidity
Water restrictions or water bans

We always encourage our residents to follow safe burning practises. All residents with a fire permit must call the Burning Status line at 780-464-8464 or text the word "BURN" to 587-340-3696 before burning, to make sure burning is allowed.

Fire bans are declared and lifted by the Fire Chief or designate.

Emergency Services reserves the right to suspend fire permits without notice at any time when conditions are unsafe for open fires.

There are three basic reasons for this:

it's too dry
it's too windy (winds are forecasted to exceed 20 km/h)
a fire ban or advisory is in place

This status is continually monitored and may change quickly. We encourage residents to consider their fire size and possible duration prior to burning.

Normally, the Auto Message, which is used by our Text to Burn line, can work in all phones. However, Auto Message may be deactivated by battery-saving apps or auto-start managers in your phone.

Some manufacturers are imposing additional restrictions on their devices to improve the battery optimization. While these limitations extend battery life, they may affect the device's full functionality. Depending on the device you are using, the configuration will be different.

As per Outdoor Fire Bylaw 4-2021, it is illegal to burn:

food waste
animal carcasses and manure
treated construction materials
wire
insulation
rubber and plastics
herbicides and pesticides
any other toxic materials which may produce dense black smoke
painted, stained or pressure treated wood
railroad ties

The above materials must be disposed of by other means, such as using a waste collection service or Strathcona County's Enviroservice Station. For more information, call Utilities at 780-449-5514.

Fires that require a fire permit include open fires and burn barrels. Fire permits are not issued for properties within:

Sherwood Park
Ardrossan
Josephburg
North and South Cooking Lake
Antler Lake
Hastings Lake
Half Moon Lake
Collingwood Cove

Fires that do not require a fire permit include recreational fire pits (pots, bowls, fire tables or chimineas) and smudge fires.

Fire permit holders must call Strathcona County's 24 hour Burning Status Line at 780-464-8464 or text the word "BURN" to 587-340-3696 each time you burn to confirm that conditions allow for burning.

Immediate danger to life or properties should be reported to 9-1-1.

Non-emergent complaints can be directed to Fire Prevention at 780-449-9651 or fireprevention@strathcona.ca. Please provide the exact address of the complaint to assist with the investigation.

Complaints may include incidents of excessive or toxic smoke, burning prohibited materials, burning improperly or burning during a fire ban or advisory.

Any person who ignites, fuels, supervises, maintains or permits an outdoor fire within the municipal boundaries of Strathcona County without a permit or in violation of burning regulations (e.g. during a fire ban) can be fined up to $2,000.

Should the fire get out of control and emergency fire response is required, the person responsible for the fire may be charged firefighting costs.

If your fire causes damage to others' property, you may also be responsible for the costs to repair the damage, whether you have a valid permit or not.

Strathcona County is a member of the Alberta Capital Airshed, a group committed to increasing the air quality and providing updated information to residents in the Capital Region. Air Quality Health Index values can be found at www.capitalairshed.ca

Immediate danger to life or properties should be reported to 9-1-1.

Visit FireSmoke Canada for current information about wildland fire weather and smoke.
Last updated: Tuesday, June 29, 2021
Page ID: 48731