Fire Permit: Apply Online
We are only accepting online applications for fire permits. Log back into your ePermit account to check the status and print off your fire permit.
If you require assistance, please contact Strathcona County Fire Prevention at 780-449-9651 or email. 
Last modified: July 15, 2021, 10:01 a.m.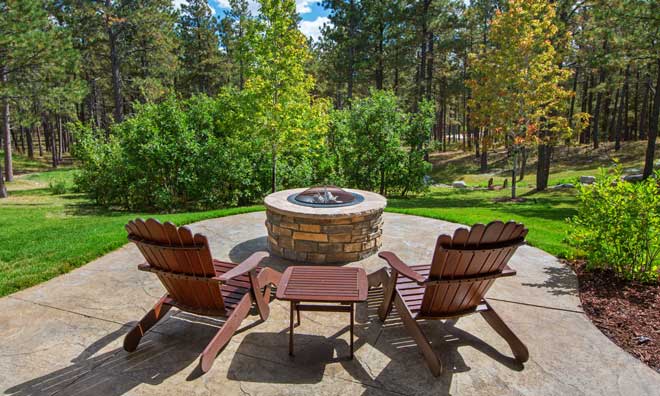 A fire pit with a screen does not require a fire permit.
A simple spark can start a fire. Depending on conditions, a fire can get out of control quickly and easily. Whether you are enjoying a backyard fire pit, burning brush or creating a smudge for livestock, make sure your fire is safe before you light it. Some fires require a fire permit and others do not.
Fires that require a permit
The following types of fires require a permit. These types of fires are applicable in rural areas only. Prior to each burn, residents must either call 780-464-8464 or text the word "BURN" to 587-340-3696 to confirm that weather and fire hazard conditions allow for burning and the fire permit is valid.
Open fires
An open fire is defined as any fire which is not a burn barrel fire, pit fire, public park site fire or smudge fire. Yard debris or brush fires, bonfires and recreational fires without a screen in place fall under this definition.

Burn barrel
A burn barrel fire is defined as any fire that is confined within a non-combustible structure or container that has the draft and smoke vents covered with a heavy gauge metal screen having a mesh size no larger than 13 mm. The burn barrel must be ventilated to preclude the escape of combustible materials including ash.

The purpose of this type of fire is to burn brush, paper or cardboard.

Burn barrel fires are allowed in rural areas with a valid fire permit. Household waste is not permitted for burning. Please visit Utilities for waste disposal options.
Fires that do not require a permit
Recreational (backyard) fires
A recreational or backyard fire or pit fire is a fire that is totally confined within a non-combustible structure or container that has draft and smoke vents covered with a heavy gauge metal screen and mesh size no larger than 13 mm. The pit must be ventilated in a way that does not allow for the escape of combustible materials, including ash. A fire pit must be situated a minimum of three metres (10 feet) away from other combustible product (e.g. fence, house, garage, deck or trees).

This fire is for recreational purposes only (cooking or obtaining warmth) and may only be fuelled with clean dry wood. At no time should a recreational fire pit be used to burn garbage, leaves, straw or any other prohibited burning materials. Recreational fires which meet these parameters are allowed in all hamlets and rural areas without a fire permit. Use of a fire pit is not allowed during a fire ban.
A smudge fire is a fire confined within a non-combustible structure or container that is set for the purpose of protecting livestock from insects or for protecting garden plants from frost.

Smudge fires are allowed in all rural areas on lands 2 acres or greater in size without a permit, except under a fire ban. 
When you are burning
As burning can produce smoke, please be considerate of your neighbours and surrounding residents.
Visibility on adjacent roads, particularly if you are within 800 metres of a primary or secondary highway, must be considered. Placing smoke signs for passing motorists is recommended to ensure safety and reduce smoke investigation calls. Signs are available to loan from the Rural contact offices at Stations 2 and 4.
Brush piles should have a minimum of 3 metres distance from any other combustible. If brush piles are larger than 3 metres x 3 metres x 2 metres, please contact Fire Prevention to schedule a site inspection.