Fireworks
Fireworks permitting resumes electronically
Strathcona County will now temporarily be issuing fireworks permits electronically. For information, please contact Strathcona County Fire Prevention at 780-449-9651 or fireprevention@strathcona.ca Monday to Friday from 8:30 a.m. to 4:30 p.m.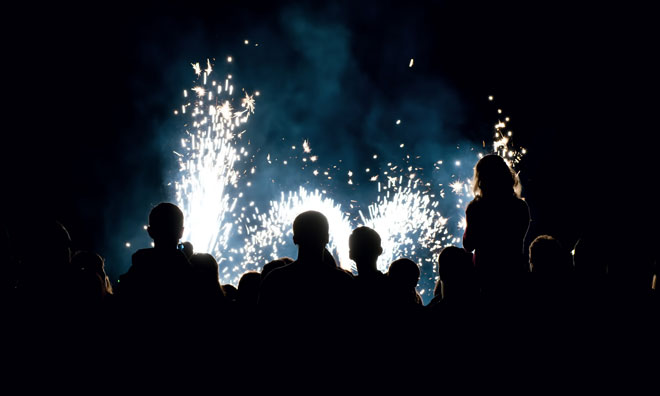 To sell, purchase or set off fireworks in Strathcona County, you must have a valid fireworks permit. Residents that want to discharge fireworks can do so on private property in the rural area. While there is no charge for obtaining a fireworks permit, there are penalties for discharging without one or for being in violation of a fireworks permit regulation.
Fireworks are not allowed in hamlets including Sherwood Park, Antler Lake, Ardrossan, Collingwood Cove, Half Moon Lake, Hastings Lake, Josephburg, North and South Cooking Lake.
Where do I get a fireworks permit?
Applications for fireworks permits are temporarily being issued electronically. Call Fire Prevention at 780-449-9651 or email for more information. 
Fireworks permit holders are required to call the Burn Status Line at 780-464-8464 or text the word "BURN" to 587-340-3696 immediately before discharge to ensure that permits have not been suspended.
Consumer fireworks information (123.1 KB)
The sale and use of fireworks is regulated within Strathcona County by three acts of legislation, including the Alberta Fire Code and federal law. The Fire Prevention division issues permits for all pyrotechnics, including consumer and display fireworks.
Consumer fireworks may only be discharged on private rural properties.
Applicants must be at least 18 years, the legal landowner, or have written permission from the legal landowner to obtain a fireworks permit.
How do I dispose of fireworks? 
Consumer fireworks are often discharged at special events such as Canada Day and New Year's Eve. Once your celebration is over, fireworks can be a mess to clean up. Fireworks, when incorrectly disposed of, can be dangerous to you, the individuals who handle your waste, and the environment. Always follow the manufacturer's directions for safe disposal.
Below are best practices for disposal of used and unused fireworks:
Submerge and soak fireworks (including all cardboard) in a bucket of water for at least 15 minutes. Soak overnight if possible.
It is important to soak fireworks that did not discharge. Never try to relight a misfire – wait 20 minutes after the failed detonation and soak fireworks in water overnight.
Place fireworks in a plastic bag to maintain moisture (double bag if possible)
Safely dispose of fireworks in your black garbage cart. These items cannot be recycled or composted.
Frequently asked fireworks questions:
All fireworks displays within Strathcona County require a permit. Permits are free, and must be applied for in person at Station 6, 915 Bison Way, Sherwood Park, during regular business hours (8:30 a.m. to 4:30 p.m. Monday to Friday).

Only the land owner/leasee or person with written permission from the land owner/leasee is eligible to apply for a fireworks permit. All applicants must be over the age of 18.

All fireworks permits are subject to a fire ban.

Consumer fireworks can be privately purchased, possessed or discharged by residents in Strathcona County with a valid fireworks permit.

Display fireworks are the type used in municipal celebrations such as New Year's Eve or Canada Day.

Special effect pyrotechnics are designed for use by professionals. This class also includes special purpose pyrotechnics manufactured for live stage, film and television industries.

Permits for display and pyrotechnic fireworks are only given to licensed pyrotechnic professionals and only at the Fire Marshal's discretion.

Consumer fireworks may only be discharged on private rural lands. Permits cannot be issued for properties within the boundaries of Sherwood Park or the rural hamlets. They may not be discharged on public lands without special permission from the County and are prohibited in any of the rural hamlets at any time.

The use of "firecrackers" is strictly prohibited and illegal at all times in Alberta.

Flying or sky lanterns have been determined to create a potentially uncontrolled and unsafe condition. Therefore, under Section 9 of the Safety Codes Act, they are not acceptable for sale or use in Alberta.

Emergency Services reserves the right to suspend fire permits without notice at any time when conditions are unsafe for open fires.

There are three basic reasons for this:

it's too dry
it's too windy (winds are forecasted to exceed 20 km/h)
a fire ban or advisory is in place

This status is continually monitored and may change quickly. We encourage residents to consider their fire size and possible duration prior to burning.

Immediate danger to life or properties should be reported to 9-1-1.

Non-emergent complaints can be directed to Fire Prevention at 780-449-9651 or fireprevention@strathcona.ca. Please provide the exact address of the complaint to assist with the investigation.

Complaints may include incidents of excessive or toxic smoke, burning prohibited materials, burning improperly or burning during a fire ban or advisory.

All fire and fireworks permits are suspended during a fire advisory as open burning is not allowed. Recreational fires with appropriate screens are allowed. This includes charcoal barbecues, recreational fires in campgrounds and where appropriate, in parks.

A fire advisory is announced when there is a high fire danger. If the situation does not improve, there is a good chance that a fire ban will be announced shortly afterwards.

During a fire ban, no outdoor burning of any kind is allowed. This includes the use of fireworks. Cooking and recreational appliances that produce heat and can be turned off using a switch or knob may be used during a fire ban. This includes, but is not limited to, gas barbecues. Fire and fireworks permits are temporarily suspended.

Emergency Services compiles and reviews current and forecasted data such as humidity, ground moisture, temperature and precipitation specific to Strathcona County. This information determines the Fire Weather Index. There are five levels to the index, low, moderate, high, very high and extreme.

Other factors reviewed include:

Risk of a fire getting out of control
Relation between temperature and humidity
Water restrictions or water bans

We always encourage our residents to follow safe burning practises. All residents with a fire permit must call the Burning Status line at 780-464-8464 or text the word "BURN" to 587-340-3696 before burning, to make sure burning is allowed.

Fire bans are declared and lifted by the Fire Chief or designate.

Any person who ignites, fuels, supervises, maintains or permits an outdoor fire within the municipal boundaries of Strathcona County without a permit or in violation of burning regulations (e.g. during a fire ban) can be fined up to $1,000.

Should the fire get out of control and emergency fire response is required, the person responsible for the fire may be charged firefighting costs.

If your fire causes damage to others' property, you may also be responsible for the costs to repair the damage, whether you have a valid permit or not.