Integrated Transportation Master Plan
On November 20th, 2012 County Council approved the Integrated Transportation Master Plan.
Integrated Transportation Master Plan 2012
What is the Integrated Transportation Master Plan?
The Strathcona County ITMP 2012 establishes a vision and direction that will guide policy and decision making related to the County's transportation network over the next 30+ years. The plan provides guidance for development of transportation infrastructure facilities and the framework for identifying appropriate funding sources (i.e. capital budgets).
The ITMP addresses transportation issues which affect all residents and visitors, directly and/or indirectly. The ITMP considers various types of transportation such as: private and commercial vehicles, public transit, cycling, and walking.
Key goals of the plan:
A sustainable approach to transportation that embraces environmentally, socially, and economically responsible planning.
Alignment with the County's 2007 Municipal Development Plan, and other master plans and strategies of the County, our neighbours, and the Capital Region.
Updating existing County transportation policies and bylaws to support the new plan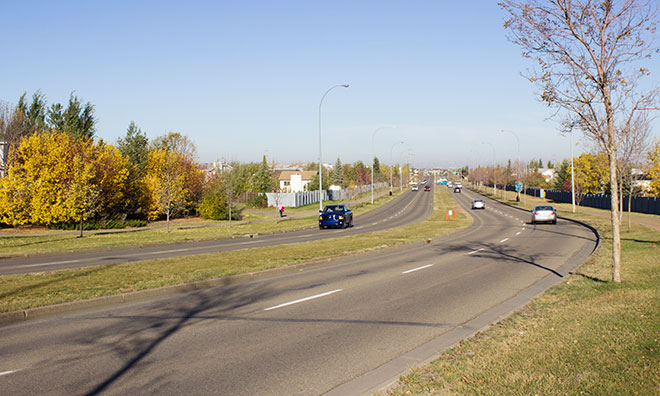 ITMP Vision and Guiding Principles
The ITMP vision statement and guiding principles have been developed through a process of engagement and consultation with input from Strathcona County leaders, administration, stakeholders, and residents. They form the foundation of the ITMP and are the basis for the strategic directions, strategic actions and recommendations.
Vision Statement 
Strathcona County has a resilient, safe, multi-modal transportation system, integrated with land use planning, to accommodate growth, provide greater travel mode choice, and manage traffic congestion.
Guiding Principles 
The five overarching guiding principles of the plan are listed following:
Integrate transportation with County Social / Environmental / Economic Sustainability Frameworks
Integrate County transportation with regional initiatives
Integrate transportation and land use planning
Improve public transit
Increase transportation mode choice
Strategic directions, strategic actions and recommendations to support the vision and overarching principles are presented in detail in the final report along with corresponding performance indicators.  Strategic action items and recommendations reflect the different contexts of the Urban Services Area and Rural Services Area.
Public and Stakeholders Involvement
Development of the ITMP has involved current policy review, public engagement, Strathcona County Council direction, and extensive engineering work.  Stakeholders' input has been a significant part of the project and its success. See examples of the most recent engagement materials at the following links:
Stakeholder Session - April 10, 2012
Public Engagement Display Boards
What is next?
Strathcona County is preparing to update the Integrated Transportation Master Plan that was approved by Council in 2012. This update will help the County plan and develop the transportation system over the next 25 years by considering:
Further details including engagement opportunities will be available on this webpage soon.