Resilience: Finding ways to enjoy our winter
Alberta winters can be long, cold and snowy. Coupled with current COVID-19 restrictions and impacts, our winter may feel even longer this year--but Strathcona County has many new and adapted programs for both indoor and outdoor play that can keep you active and chase away those winter blues.
New outdoor activities this winter
If you're an outdoor enthusiast or picking up a new hobby this season, the Strathcona Wilderness Centre (SWC) is a popular spot for cross-country skiing, snowshoeing and walking. SWC has three-hour equipment package rentals for people without equipment, from snowshoes to preschool skis to performance skis.
If you have equipment and want to adventure somewhere new, Cooking-Lake Blackfoot Provincial Recreation Area is a beautiful spot to explore by skis while snowshoers can explore Beaver Hills Diversity Trail. New this season for walkers, snowshoers and skiers alike is the Broadmoor Golf Course. While there is no equipment for rent, the golf course is hosting three cross-country ski trails, groomed three times a week, walking paths and open areas for snowshoeing. The course is open daily from 7 a.m. to 11 p.m., with washrooms available 9 a.m. to 5 p.m., providing lots of time for individuals and families to get outside and get back to nature.
The golf course is free to use, every day, and the SWC charges a daily or seasonal pass rate.
Not a ski or snowshoe fan?
Not everyone is a skier or snowshoer, and the playgrounds, toboggan hills, walking trails, off-leash parks and cycling trails scattered throughout the County are a perfect alternative.
Your imagination is the limit--build snow people and snow forts, have snowball fights, colour snow with food dye and water, have a bonfire or outdoor picnic--the options are never-ending.
If you head outside, bring warm gear, snacks and hot drinks, and make it a fun adventure. Staying safe is paramount, so wearing proper outdoor clothes and boots as well as following COVID health measures (six feet of distance, hand washing and sanitizer, masks) is essential. If you need assistance getting warm snow gear for you and your family, contact Family and Community Services at 780-464-4044.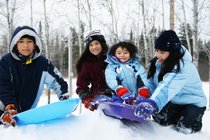 Make our winter an adventure
We can't avoid the snow in Alberta, so getting outside won't just help us enjoy our weather, it will help us cope during COVID and strengthen our mental and physical health. But, for those days where you just want to stay warm and cozy inside, check out the free recreation activities, virtual programs and at home activities Strathcona County has to help everyone find a way to enjoy our winter and stay healthy and safe.