New ROWCAP fees
Starting in June, new Right of Way Construction Activity Permit fees will be in effect. Payment will be required during the application process.
ROWCAP permit fee $50
ROWCAP extension fee $25
Last modified: April 28, 2023, 3:20 p.m.
Work on or near County road right-of-ways requires a Right-of-Way Construction Activity Permit (ROWCAP). Activities such as bicycle races, parades and charity ride events on County roads also require a ROWCAP. In certain situations, additional permit(s) may be required.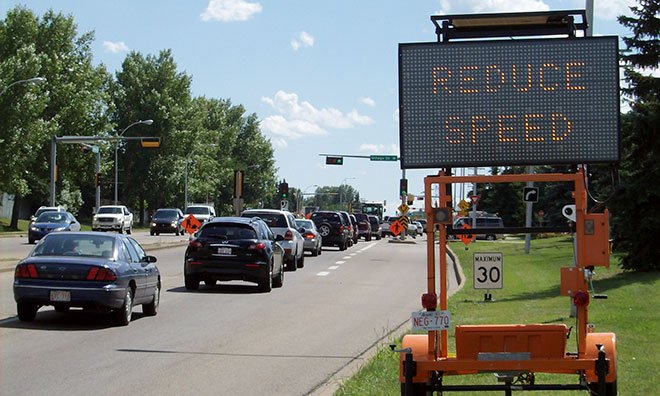 Before submitting a ROWCAP application please ensure that any other required permits and approvals have been obtained. Please this document (33.3 KB) that summarizes some of the necessary permits and processes.
Applying for a ROWCAP
ROWCAP applications can be submitted online through County Connect.
ROWCAP applications for work that requires temporary traffic control must include a temporary traffic control plan (traffic accommodation strategy) prepared by the applicant or prime contractor.
ROWCAP Applications must be submitted at least 10 business days prior to the start date of the planned activity. This is to determine and consider the effect that the work may have on other planned right-of-way activities, solid waste collection, transit routes, Emergency Services, Enforcement Services and other public and private entities.
Right-of-Way Construction Activity Manual
The Strathcona County Right-of-Way Construction Activity Manual (April 2016) (3.7 MB) sets out the standards and specifications for ROWCAPs and guidelines for temporary traffic control (including signs) associated with right of way construction, maintenance and operational activities. The manual is intended as a working reference for the purpose of providing for:
The safety of employees at the worksite.
The safety of motorists and pedestrians within the traffic control zone.
The protection of equipment used at the worksite.
Minimizing traffic disruption around the worksite.
Coordinating and tracking on-street activities through a permitting system.
Further information:
County Connect
Ask a question, provide feedback or report an issue.