Access Guidelines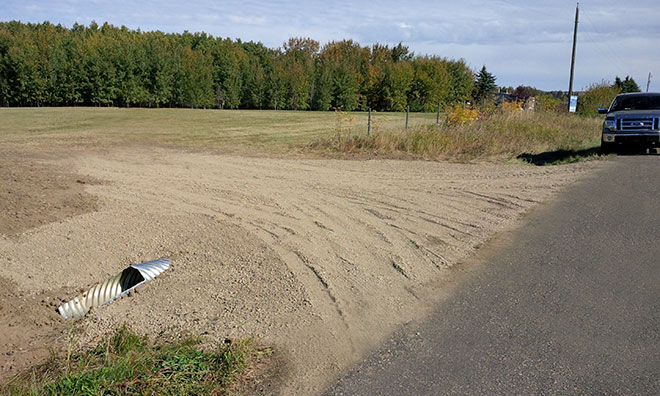 All new and modified accesses (driveways) that connect to roads under Strathcona County jurisdiction are subject to the approval of Strathcona County. 
You will need to submit an application form to Strathcona County if you are planning to do any of the following:
Build a first approach
Add a new (second) approach
Create a temporary access approach
Modify an existing access approach on your property
Review the policy, procedure and application form:
If approved, the approach must be constructed to Strathcona County specifications and must receive final approval. Any access approach not approved by Strathcona County will be removed at the expense of the registered landowner. 
Frequently Asked Questions
If you are making any changes to your existing driveway/access you will need to submit an Access Approach application form to Transportation and Agriculture Services.

Site inspection fee (due with application) - $75.00
New (second) access approach - $3,000.00 + GST
Create a temporary access approach - $3,500.00 + GST (refundable deposit)

No, all construction of the access is the responsibility of the landowner.

The County can issue a Stop Work order and, in certain situations, remove the access.

Residences located in urban areas are not permitted to have more than one driveway/access to their property. Review the Access Guideline Policy for more information.

The maximum width for driveways in Sherwood Park is six metres or the width of your garage, if it is greater than six metres.

If you are in a rural area, you can apply for a variance of up to 10 metres, at an additional cost of $250.00 + GST per metre. A variance is a written request needed to change the County's Design and Construction standards.

If you are in an urban area, you cannot exceed the six metre limit, unless the width of your garage is greater than six metres.
County Connect
Ask it, report it or suggest it using County Connect