Outdoor courts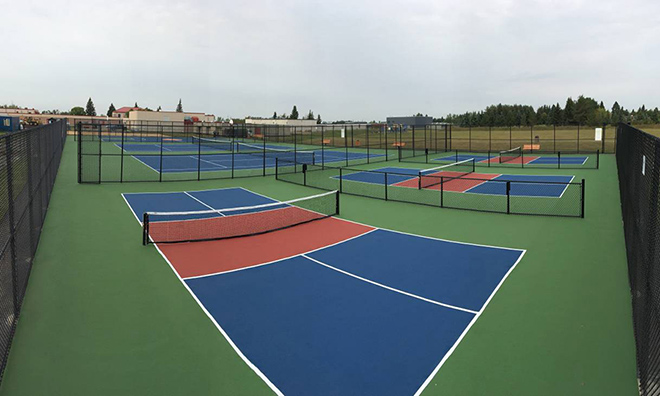 Updates and notices
Remember to stay home when sick, wash or sanitize your hands often and follow all Alberta Health Services guidelines for physical distancing and gathering restrictions.
Learn more about Strathcona County's response to COVID-19.
Courts safety guidelines
Follow all Alberta Health Services gathering restrictions, and Sport, physical activity and recreation guidelines.
Stay home if you are sick or displaying any symptoms of

COVID

-19.
Do not share equipment: If you are playing against someone outside your household, bring your own marked equipment to play with and only touch that equipment. For example, use your own ball that is clearly marked or is a different colour when serving.
Wash your hands at home before and after use. Tip: Carry and use hand sanitizer while visiting the courts.
Always keep at least 2 metres (6 feet) distance from others, unless you are from the same household / cohort.
Additional information for pickleball:
Wave from the Non Volley Zone line to thank your opponent. No paddle tapping.
Wait outside of the fenced courts until players are done playing their game and vacate the fenced area.
If players are waiting, play one game then vacate the courts and wait your turn for the next available court.
If you witness these rules not being followed, you can report it by contacting Alberta Health Services. You can also make a report to Strathcona County's 24 hour policing complaint line at 780-467-7741.
Thank you for your cooperation!
Tennis, volleyball, pickleball and basketball provide great opportunities for friends to get together for some fun and fitness. Find more information on parks and trails, including trail maps and walking and cycling trails.

Basketball courts 
Ardrossan Athletic Park (1)
Clarkdale Park (1)
Clover Bar Junior High (1)
Clover Bar Ranch (1)
Collingwood Cove (2)
Davenport Park (1)
Hastings Lake (1)
Josephburg (2)
McGhan Park (1)
South Cooking Lake (1)
Strathcona Athletic Park (1) 
Westlake Beach (1)
Sand volleyball courts
Ardrossan Athletic Park (1)
Broadmoor Lake Park (3)
Clarkdale Meadows Lake (1)
McGhan Park (1) 
Trillium Centre (3)
Sherwood Heights Park (1)
Tennis courts
Ardrossan Athletic Park (2)
Brentwood School (2)
Clover Bar School (1)
Jean Vanier School (2)
McGhan Park (1)
Hastings Lake (1)
Kinsmen / Westboro (4, with lighting)
Pickleball courts
Sherwood Heights (8)
The Sherwood Heights Pickleball Courts were built in partnership with the Government of Alberta and the Strathcona County Pickleball Association. 
The Strathcona County Pickleball Association League play schedule for the Sherwood Heights Courts can be found at www.scpa.ca 
All other pickleball courts in Strathcona County are spontaneous use courts.
Ardrossan Athletic Park (3)
McGhan Park (1)
Clover Bar School (1)
Village on the Lake (6)
Handball courts
Wes Hosford Elementary School (3)
Broadmoor Lake Park (1)
To book a field, diamond or learn more about our fees and charges call 780-467-2211. 
Further information
780-467-2211
recreation@strathcona.ca