Seat Belts and Child Seats
Wearing a seat belt in Alberta has been required by law since 1987; however, some people still don't wear them. According to Transport Canada, almost 40 per cent of drivers and passengers killed in collisions were not wearing their seat belt at the time of the crash. 
"I don't need to wear a seat belt - I'm a good driver."
Even if you're a good driver, another driver can still hit you. Your chances of surviving a collision increases by 50% if you are wearing your seat belt.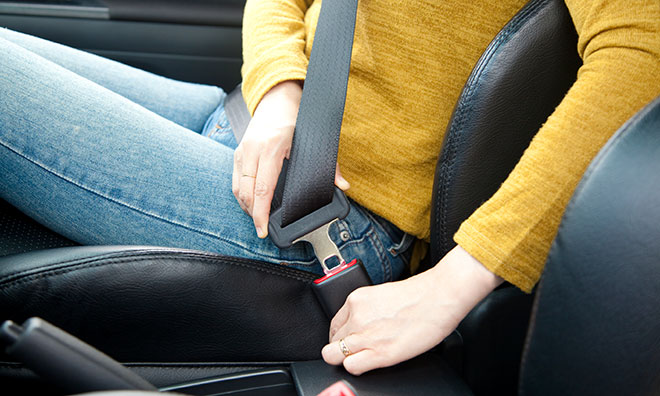 A seat belt helps keep:
The driver behind the wheel and in control.
Your head and body from hitting the inside of the vehicle.
You inside the vehicle during a collision, which is better than being ejected through a windshield or door onto the roadway. Without a seat belt, passengers become high-speed projectiles in a collision.
A survey done by Transport Canada in 2011 shows seat belt use in Alberta has now reached an average of 95 per cent. However, there is still room for improvement. In particular, seat belt use in rural areas consistently lags behind rates in urban areas.
County Statistics
Reported seat belt use in the County is very high. Almost 99% of vehicle occupants involved in a collision in Strathcona County reported that they were wearing their seat belt. 
However, 11% of vehicle occupants who suffered a major injury requiring hospitalization in the County as a result of a traffic collision were not wearing their seat belt. Twenty-five per cent of vehicle occupants who died in a traffic collision in the County in the last three years were not wearing a seat belt.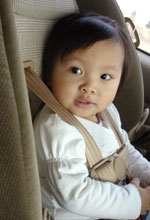 Child Seats
Children grow quickly. It is very important to check their seat regularly to ensure they are in the correct seat for their height and weight.
According to Alberta law, parents must use an approved child safety seat with a harness until their child weighs at least 18 kg (40 lbs) or is 6 years of age.
Always consult the owner's manual for specific guidelines for the proper use of your child's safety restraint. Canadian safety guidelines recommend:
A rear-facing seat should be used from birth to at least 1 year of age, 10 kg (22 lb) and walking.
Children who are at least 1 year of age, 10 kg (22 lb) and walking should use a forward-facing seat to at least 18 kg (40 lb).
Booster seats are recommended for children under the age of 9, 18 to 36 kg (40 to 80 lb) or 145 cm (58 in). Without a booster seat, a child is four times more likely to suffer a significant injury or to suffer a head injury in the event of a collision.
Children under the age of 12 are safest in the back seat of a vehicle in proper restraints based on their age, height and weight.
Strathcona County Enforcement Services offers the expertise of trained car seat safety technicians. To request an appointment, call 780-449-0170 and press 2 for service.