Passenger and motorists are required by law to wear a seat belt in Alberta, and children must use an approved child safety seat.  
Visit this Government of Alberta website to learn about the seat belt law.  
Child seats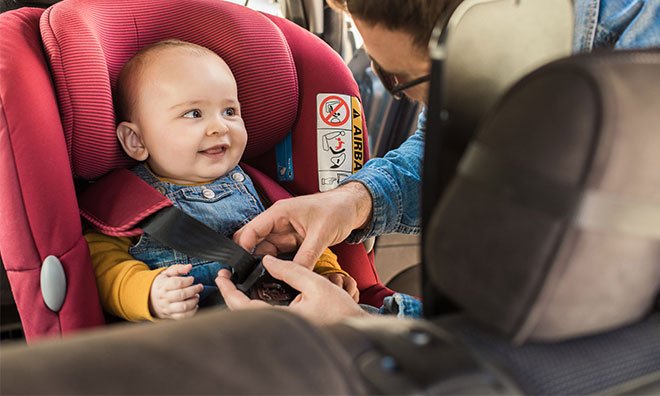 According to Alberta law, parents must use an approved child safety seat with a harness until their child weighs at least 18 kg (40 lbs) or is 6 years of age. 
Children grow fast. It is very important to check their seat often to ensure they are in the correct equipment for their height and weight. Visit this Government of Alberta website to learn which type of seat is best for your child: rear-facing, front-facing, or booster seats.  
Checking for proper installation 
Not sure if your car seat has been installed right in your vehicle? Take these steps to ensure kids are the safest they can be: 
Read your child safety seat's manual and the owner's manual for your vehicle. (Look under 'child safety restraint' in the index.) 
 
Watch these video guides on how to install child seats  
 
If you have questions, you can:  

a) Contact Alberta Health Services, Strathcona County Health Centre Phone: 780-342-4600  

b) Book an appointment with an expert car safety technician.
Call Enforcement Services at 780-449-0170 
(press 2 for service) 

c) Come to a car seat clinic. These are scheduled events throughout the year when you can drive to the RCMP parking lot and have your car seat checked. Dates and times are announced here, and on social media.  
---
Other resources
Learn more about how to travel safely by visiting these websites: 
Alberta traffic safety 
Laws, guidelines and resources to help drivers improve safety on Alberta roads. 
Parachute  
Canada's national charity dedicated to injury prevention has information and guides to help you: 
Need to dispose a car seat? 
Use the Waste Wizard online tool to check your options. 
---
More information