Talk to your doctor
Strathcona County has partnered with the Edmonton and area Primary Care Networks to provide up to five free passes and an option for a wellness centre orientation at our recreation facilities. Family physicians and their health teams can now prescribe physical activity to their patients (including children, youth, adult and seniors). Our educated and qualified fitness technicians are happy to answer any questions you may have about getting started, and will work with you in our facilities to discover how to be successful in activity goals. Learn more about the Prescription to Get Active.
Last modified: May 9, 2022, 8:34 a.m.
The Edmonton and area Primary Care Networks (PCNs) have partnered with local municipal recreation facilities in a unique venture where local family physicians and their health care teams prescribe physical activity to patients who would benefit from increased activity.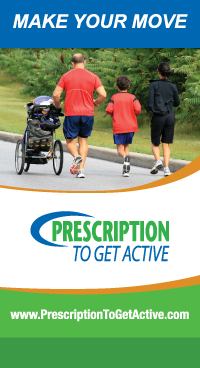 Edmonton and area PCN family physicians are now prescribing physical activity to assist patients with reducing their risks through the Prescription To Get Active program. The target population is anyone who needs to be more active and who can exercise without specific supervision or medical restrictions. This includes children, youth, adults and seniors.  Patients are encouraged to contact the recreation facility directly for more information surrounding guidelines for specific age groups.  

Basic physical activity guidelines:
Just 150 minutes of activity a week for adults can reduce risk and improve your health regardless of weight loss. The Canadian Physical Activity Guidelines provide advice on the required amount of activity is recommended for health benefits. Please see the links for each specific group:
Physical Activity Guidelines 0-4 years old
Physical Activity Guidelines 5-17 years old
Physical Activity Guidelines 18-64 years old
Physical Activity Guidelines 65 years and older
Physical Activity Guidelines for Pregnancy
Physical Activity Guidelines for Multiple Sclerosis
 
Those who are active live longer, healthier lives. The benefits of regular physical activity include:
better mental health
better sleep
more energy
relief in symptoms from health conditions
healthier weight
build and keep strong muscles
better able to resist illness
reduced risk of falls
longer life
People who are inactive have a higher chance of developing these health concerns:
anxiety
depression
heart disease
high blood pressure
diabetes
some cancers
obesity
kidney problems
osteoporosis (brittle bones)
Watch this video to learn more!
Which County facilities are taking part in this initiative and what services will be provided to the participant:
Ardrossan Recreation Complex, Millennium Place, Glen Allan Recreation Complex, Emerald Hills Leisure Centre and the Strathcona Wilderness Centre.
Prescription to Get Active participants will receive up to five free single visit passes as well as an optional wellness area tour and orientation to get started.
Where do you go with your prescription?
PTGA participants can go to any of our participating facilities and ask to speak to the facility representative in that building to get them started, or they can call the facility representatives directly before coming in to arrange a specific time for their initial visit.
Millennium Place
Ardrossan Recreation Complex
Glen Allan Recreation Complex
Emerald Hills Leisure Centre
Strathcona Wilderness Centre