Centre in the Park is a multi-use area within the heart of Sherwood Park. View on Google Maps. It is a place where people live, work and spend their leisure time.
The vision: to create a centre for Strathcona County - a heart for our community.
Centre in the Park combines municipal services, local government, residences, retail services and inviting public spaces. It completes a core for our community, linking to existing amenities such as Broadmoor Lake Park, Festival Place, the trail system, businesses and schools.
Centre in the Park is designed to be a model of a sustainable community that optimizes environmental innovation.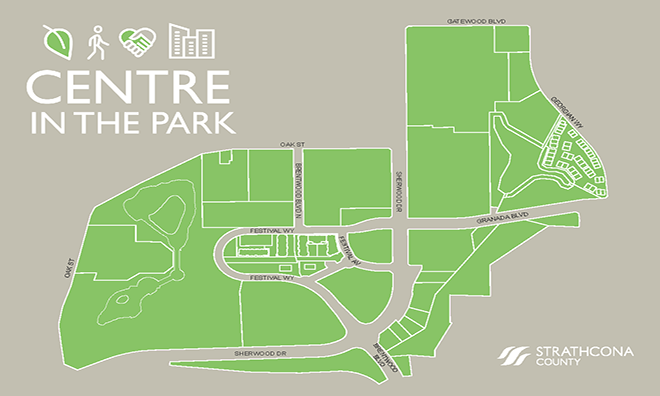 The redevelopment plan
The Centre in the Park Area Redevelopment Plan is now complete. On September 8, 2020, Council gave Bylaw 1-2020 second and third readings, officially adopting the Centre in the Park Area Redevelopment Plan.
An Area Redevelopment Plan provides guidance to landowners who decide to redevelop their properties in the future. This plan generally outlines acceptable uses, forms and densities of development in different areas and the infrastructure required to facilitate such development.
To accompany the Area Redevelopment Plan a new CITP - Centre in the Park Zoning district has also been adopted to provide customized regulations for this unique area which align with the policies of the Area Redevelopment Plan.
View the final documents:
Centre in the Park Area Redevelopment Plan Bylaw (16.0 MB)