Broadmoor Lake Park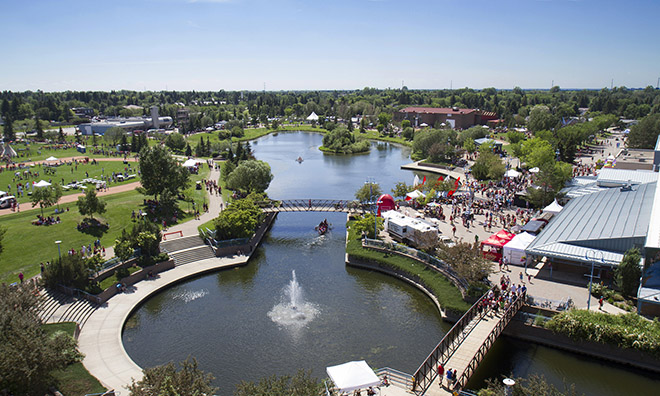 Coined Strathcona County's Festival Hub, Broadmoor Lake Park has seasonal and year-round amenities available to the public. Broadmoor Lake Park has plenty of parking and bicycle racks available for visitors throughout the year. Amenities include:
3 km's of asphalt trails
Seating, including benches and picnic areas, overlooking Broadmoor Lake
Accessible playground, with access to public washrooms
3 sand volleyball courts, open to public to use on first come, first serve basis
2 sports fields (bookable full-size fields – 110 x 65) – To book call 780-467-2211
Wall handball court, open to public to use on first come, first serve basis
Shale running track, with a skating pathway in the winter 
Picnic Shelter (bookable)
Broadmoor Lake Park is also host to many events through the year including:
Visit the Strathcona County Community Calendar for information about upcoming events.
Interested in booking the Broadmoor Lake Picnic Shelter?
The picnic shelter can be booked for events from the first week in May through to September 30 and is available from 9 a.m. to 9 p.m.
The picnic shelter can be used free of charge from October 1 – April 30 on a first come, first serve basis. (Note: the shelter will be closed when the temperature falls below 15 degrees Celsius, or during a snowfall.)
The picnic shelter offers the following amenities:
5 picnic tables
Large fire pit
Counter space with sink/running water (May through September only)
Wheelchair accessibility
Access to power
Adjacent to spray park and playground
Washroom access (Sherwood Park Arena and Kinsmen Leisure Centre)
Please note:
there is no firewood or BBQ pit (you may bring your own wood or BBQ to cook food)
Alcohol and smoking are not allowed
Minimum 7 days' notice to book