Broadmoor Lake Park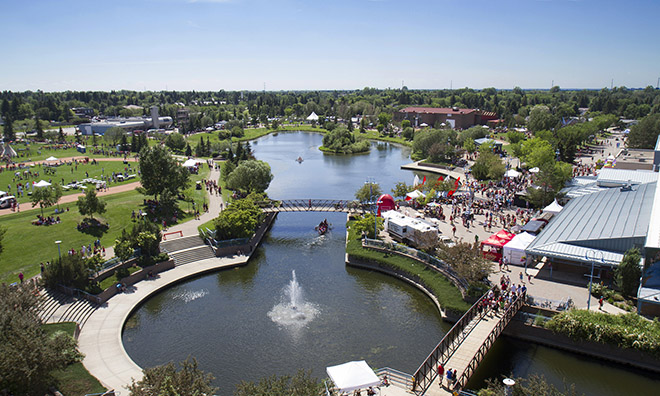 Playground and outdoor amenities closed
March 26, 2020
In an effort to keep our community safe, all playgrounds and outdoor amenities are CLOSED until further notice. This includes spray decks, spray parks, courts, the Millennium Place skateboard park, gazebos and picnic shelters. Parks and trails (except for at the Strathcona Wilderness Centre) remain open. While using the trail system, please remember to:
- walk within your own neighbourhood and stay close to home
- always keep at least 6 feet (2 metres) distance from others
- stay home as much as possible and avoid close contact with other people
- share the trails and warn others of your presence as you pass
- avoid touching communal surfaces
Visit Strathcona County's COVID-19 page often for updates.
Outdoor playground and amenities closure
Outdoor playgrounds and hard surfaces, including spray decks, spray parks, outdoor courts, the Millennium Place skateboard park, gazebos and picnic shelters will remain closed until June 15, or until further notice.

Alberta Health Services has directed that groups of 15 or more are not allowed, and that people need to maintain a space of 6 feet (2 metres) or more between each other. The County cannot ensure that this won't happen if the playgrounds and other park amenities remain open.

In addition, outdoor playgrounds have numerous places that are touched frequently and are not disinfected.

Parks and trails, except the Strathcona Wilderness Centre, can still be used for recreation. Maintaining physical distance from others (2 metres or 6 feet) is important when using these spaces.

All bookable diamonds and fields are closed. IN addition, we will not be taking any bookines for fields or diamonds prior to June 15 or until further notice. While they may be open as a park space, we are not taking bookings on them and will continue to follow Alberta Health directive.

We are woking closely with community organizations with regards to fields and diamonds.
Coined Strathcona County's Festival Hub, Broadmoor Lake Park has seasonal and year-round amenities available to the public. Broadmoor Lake Park has plenty of parking and bicycle racks available for visitors throughout the year. Amenities include:
3 km's of asphalt trails
Seating, including benches and picnic areas, overlooking Broadmoor Lake
Accessible playground, with access to public washrooms
3 sand volleyball courts, open to public to use on first come, first serve basis
2 sports fields (bookable full-size fields – 110 x 65) – To book call 780-467-2211
Wall handball court, open to public to use on first come, first serve basis
Shale running track, with a skating pathway in the winter 
Picnic Shelter (bookable)
Broadmoor Lake Park is also host to many events through the year including:
Visit the Strathcona County Community Calendar for information about upcoming events.
Interested in booking the Broadmoor Lake Picnic Shelter?
The picnic shelter can be booked for events from the first week in May through to September 30 and is available from 9 a.m. to 9 p.m.
The picnic shelter can be used free of charge from October 1 – April 30 on a first come, first serve basis. (Note: the shelter will be closed when the temperature falls below 15 degrees Celsius, or during a snowfall.)
The picnic shelter offers the following amenities:
5 picnic tables
Large fire pit
Counter space with sink/running water (May through September only)
Wheelchair accessibility
Access to power
Adjacent to spray park and playground
Washroom access (Sherwood Park Arena and Kinsmen Leisure Centre)
Please note:
there is no firewood or BBQ pit (you may bring your own wood or BBQ to cook food)
Alcohol and smoking are not allowed
Minimum 7 days' notice to book
Further information or booking availability
780-467-2211
facility.booking@strathcona.ca