Wildfire update: fire ban remains in effect
May 10, 2023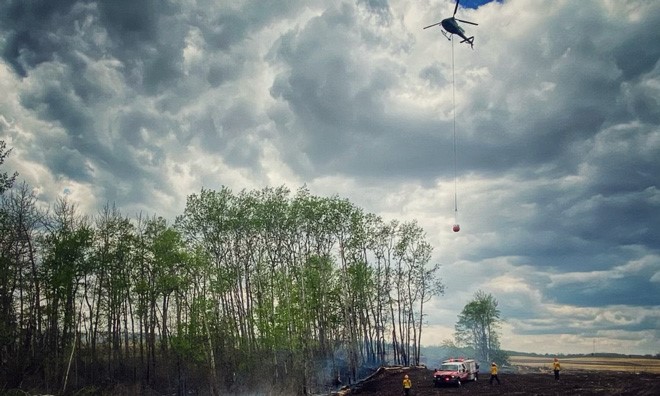 The two wildfires that started on Friday, May 5 are contained and under control with overhaul of hot spots continuing.
Both fires were a result of unintentional human activity. Between both fires, 18 properties were damaged, including the loss of sheds, vehicles, yard equipment, fences and vinyl siding damage. There were no injuries or loss of homes in either fire.
Following the Alberta Emergency Alert notifications, the Community Centre's reception centre had 240 individuals register from the evacuation order zone and 141 individuals register from the evacuation alert zone.
"We are appreciative of our neighbouring firefighting communities that joined us to help with the fire response. Throughout the firefighting response, we saw examples of kindness as the community worked together at all levels to ensure people were safe. Thank you to everyone for your cooperation and support," says Fire Chief Martin Paulson.
The overhaul work for the fire that was in the Highway 21 area may continue for several weeks, weather dependent. During this time, there may be smoke in the area. This can lead to reduced visibility especially if fog or rain is in the area. Emergency vehicles and heavy equipment may be operating in the area. Please take this into consideration and drive with caution. Crews continue to monitor and work in the area. If you see an active fire, please call 9-1-1 immediately.
Fire ban remains in effect
"Even though we have had some moisture and cooler temperatures, it is still not significant enough and a fire ban remains in effect. We need everyone to do their part to prevent fires," says Fire Chief Martin Paulson.
During a fire ban, the following activities are NOT allowed:
open fires (brush, bonfires etc.)
burn barrels
fireworks
fire pits or chimineas 
solid fuel barbecues (charcoal, pellets etc.) without an on/off switch
Cooking and recreational appliances that can be turned on or off using a switch or valve (fire table, electric smoker, pellet, propane or natural gas barbecues) ARE allowed.
Off-highway vehicle (OHV) restrictions
The Province's ban on the recreational use of off-highway vehicles continues for all public lands, including on designated OHV trails. Visit albertafirebans.ca for details.
The fire ban will be lifted when conditions improve. Sign up for SC Alerts to receive a notification when the ban has been lifted.
Learn more on our website at strathcona.ca/FireBan.
The fires are having a large impact on our community and the province. It's okay to feel affected, even if you do not have a direct connection to the event or person. Acknowledge your feelings, connect with those you care about and seek additional support if you are having a hard time managing your emotions. Please call 780-464-4044 or visit strathcona.ca/fcs to access supports.
-30-
 
Contact: Strathcona County Communications, 780-410-6595