Residential street snow clearing starts Sunday, January 8
January 6, 2023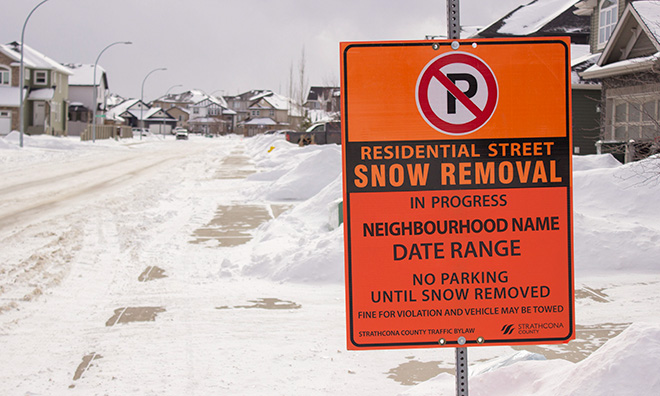 Snow clearing on Priority 3 collector roads will be complete tonight, and County crews will start clearing Priority 4 residential streets on Sunday, January 8 at 6 p.m.
Residents are asked to watch for large orange "No Parking" signs in their neighbourhood that include dates for when parking is not permitted. Signs will be posted at least 24 hours before scheduled snow clearing in each area.
Vehicles parked on a residential street during the posted timeframe are subject to a $250 ticket and tow. Parking is allowed after the snow has been windrowed and removed.
When residential clearing is underway, residents will be able to park on any collector road marked with a permanent sign that states "snow route when declared", as a snow route parking ban will no longer be in effect.
Crews will be working 24/7, and residential street snow clearing is expected to be completed within 10 days (by January 18). If there is a snowfall event during the process and crews need to clear roads with higher traffic volumes, residential street snow removal may be delayed. 
A schedule for residential clearing is available on the County website. The schedule will be updated daily with completed roads, and residents will be able to monitor progress through online progress maps.  
For more information, visit www.strathcona.ca/residentialsnow.
Contact: Strathcona County Communications, 780-410-6595