On-Demand Transit hits the streets of Sherwood Park
June 17, 2022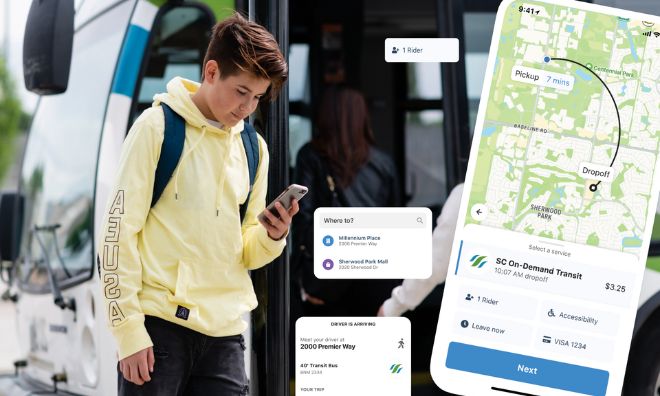 On June 26, 2022, the On-Demand Transit pilot will launch in Sherwood Park. This new service will replace the current local hourly evening and weekend service.
Traditionally, it could take local transit riders up to an hour and a half to travel across Sherwood Park through established transit routes, but the new On-Demand service provides a more direct route, effectively cutting the travel time across Sherwood Park to approximately 30 minutes – a vast improvement over current ride times.
"I see the new On-Demand Transit service as an important connector to meeting the transportation needs of our community. It is more convenient, offers more coverage to residents and is less costly to the taxpayer," says Mayor Rod Frank. "On-Demand Transit shifts our buses away from empty routes and instead focuses our resources on the real-time transportation needs of our riders." 
The On-Demand Transit service is simple and accessible and can be booked through the On-Demand Transit app (Apple store or Google Play) or online at strathcona.ca/OnDemandTransit.
For individuals who do not have a smart phone or need help getting used to the new way of booking a trip, they may call 780-464-RIDE (press 5) and a customer service representative will be able to assist with learning to use the app, online computer portal, or book a trip.

Riders can book their trips up to 48 hours prior to their desired trip time or go on the app to find out when the next trip is available. Within the app, riders can see what trips are available, select when they want to leave or arrive at their destination and then meet their bus at their designated bus stop at the specified time. Current local fares apply, and riders can use passes, tickets, and cash.
On-Demand service hours:     
Trip booking is available:
Monday to Friday
7:15 p.m. - 12:15 a.m.
Monday to Friday
7 a.m. - 11:45 p.m.
Saturdays
6:15 a.m. - 12:15 a.m.  
Saturdays
6:15 a.m. - 11:45 p.m.
Sundays
7:15 a.m. - 8:15 p.m.  
Sundays
7:15 a.m. - 7:45 p.m.
On-Demand replaces transit's current hourly local evening and weekend service and will be using its fully accessible 40' nova buses during the pilot. If the pilot is successful, the On-Demand Transit service will shift to the smaller 25' accessible buses as it moves into full implementation of the On-Demand service.
Transit welcomes the community to try the On-Demand service. The evening and weekend On-Demand pilot is an important step in improving local service and is a key action from the Transit Master Plan. Transit will be monitoring the community's response to the pilot, and if successful, there is a strong potential to expand the On-Demand service within the community.
For more information, visit strathcona.ca/OnDemandTransit or call 780-464-RIDE (7443).
-30-
Contact: Strathcona County Communications, 780-410-6595