County offering more options to enjoy parks this summer
June 10, 2022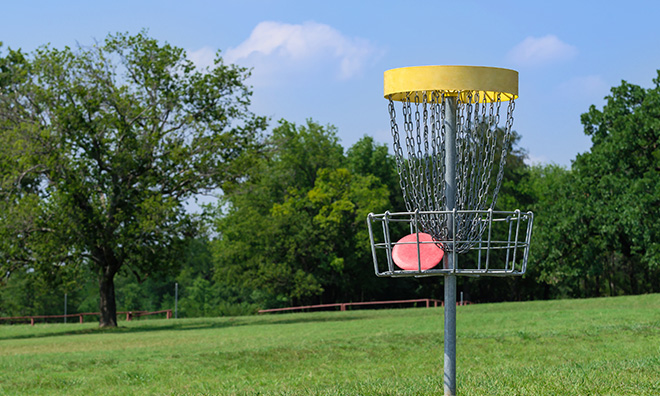 Summer fun continues in Strathcona County with the introduction of a new pilot disc golf course in Sherwood Park, as well as the continuation of permitting responsible alcohol consumption at designated picnic sites.
Disc golf enthusiasts are invited to try out the new five-hole pilot course at Greengrove Park (199 Georgian Way), in Sherwood Park.
Disc golf has been gaining popularity in the community and Greengrove Park was identified as a pilot location for a course in Sherwood Park. Herb Belcourt Park and Heritage Hills Park currently host three-hole courses. A nine-hole course is also located at the Strathcona Wilderness Centre.
Disc golf is played similarly to regular golf, however instead of using golf clubs and a golf ball, disc golf players throw a disc aiming for a target basket. The object of the game is to complete each hole in the fewest number of throws, starting from a tee area and finishing at the basket. Disc golf is easy to learn and is accessible to people of all ages and fitness levels.
Two FREE learn to play disc golf sessions will be hosted at Greengrove Park on June 22 from 5 p.m. to 8 p.m. and June 25 from 1 p.m. to 4 p.m.
The Greengrove Park pilot course will be evaluated in the fall with a survey open to the community.
Alcohol in designated picnic sites
Beginning June 15, Strathcona County will be once again permitting responsible alcohol consumption by adults of legal drinking age at five community parks sites at designated picnic tables.
Clearly labelled picnic tables will be available for alcohol consumption between the hours of 11 a.m. and 9 p.m. Alcohol consumption will not be allowed in areas outside of the designated picnic sites. Permitted sites include Centennial Park picnic shelter and fire pits, Broadmoor Lake Parks' north lake picnic area, Cloverbar Ranch Park picnic shelter, Josephburg picnic area (near pickleball courts), and South Cooking Lake picnic shelter.
For more information about disc golf, visit strathcona.ca/DiscGolf and for more information about alcohol in designated picnic sites, visit strathcona.ca/AlcoholinParks.
                                                      - 30 -
Contact: Strathcona County Communications, 780-410-6595