Update on pool closures and service modification timelines
August 10, 2020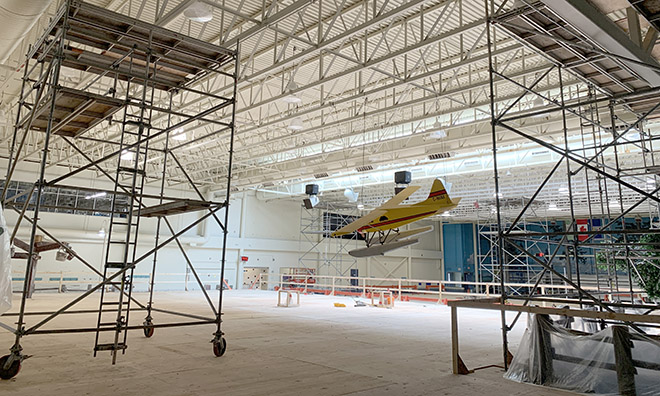 Update on pool closures and service modification  timelines

Weather and unexpected repairs have extended the re-opening timelines for the Kinsmen Leisure Centre and the Millennium Place aquatic centre.  Strathcona County has taken advantage of these time extensions to  ensure an overall better re-opening experience for its guests.
The Kinsmen Leisure Centre closure will be extended from late August to a phased re-opening, beginning early September 2020. The Millennium Place aquatic centre closure will be extended from November 2020 to January 2021.
The Kinsmen Leisure Centre re-opening will feature the much-anticipated new universal changeroom,  along with a changeroom designated for people with special needs and mobility issues. In addition, there will be improved filtration in the kiddie pool and whirlpool. Guests will also be greeted with a new public art piece called "Ripple Effect". The new mosaic is being created by Edmonton artists Karen Klassen and Erin Pankratz and will depict colourful and lively shimmering water surfaces and is made of vitreous glass and porcelain tiles in a rainbow of colours.
Target re-opening for the Kinsmen Leisure Centre is set in two phases: 
September 8, 2020  – Open for lap swim and swim clubs 

September 28, 2020 – Open for recreation swims and fitness programs (pending completion of the new universal changeroom)
Target re-opening for Millennium Place is January 11, 2021.
Aquatic activities that operate out of Millennium Place  will be accommodated at the Kinsmen Leisure Centre  and the Emerald Hills Leisure Centre  with modified schedules.  Swim lessons are also planned to restart in September.
The upgrades to Millennium Place aquatic centre focus on replacing an aging mechanical system, including new boilers and filtration, which will enhance water quality. A new and exciting water playground will also be found in the leisure wave pool to create a fun experience. With roof repairs underway, the extended timeline allowed for the skylight to be replaced to prevent a future closure. New sound baffles will also be installed to improve sound quality in the centre.  
All aquatic programs and services will operate with modifications to support Alberta Health Service's guidelines.  To support the changes in service levels, the Millennium Card will remain on hold until further notice.  An interim monthly pass will continue to be offered. Visit strathcona.ca/mcard or call 780-467-2211 for more information.
For more information on  re-opening dates and service modifications,   visit strathcona.ca/swimming or call 780-467-2211.
Set in the  centre of Alberta's energy and agricultural heartland, Strathcona County is a thriving, successful and vibrant community of over 98,000 residents. Strathcona County is made up of the urban area of Sherwood Park and a large adjacent rural area of farms, acreages and smaller hamlets. It is home to 75 per cent of hydrocarbon processing in Western Canada. Strathcona County is a leader in environmental conservation, and 55 per cent of its land is within the UNESCO Beaver Hills Biosphere. With a focus on economic, governance, social, cultural and environmental sustainability, Strathcona County is committed to balancing the unique needs of its diverse community.  

-30-
Contact: Strathcona County Communications 780- 410-6595