Announcing 2023 Strathcona County Awards of Excellence recipients
May 9, 2023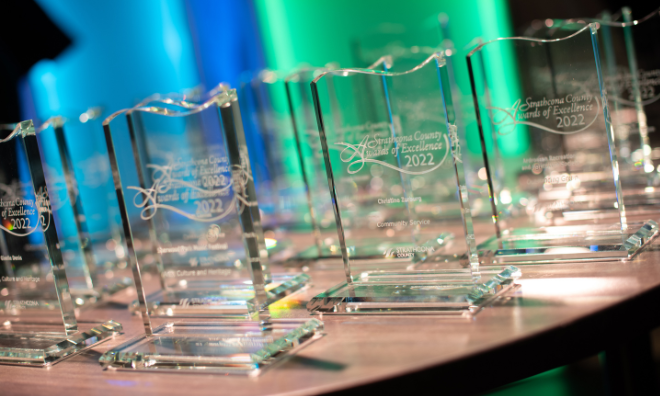 A local athlete who has run over 115 marathons. A two-time Queen Elizabeth ll Medal recipient who dedicated countless hours of time to community service and education after a life changing injury. A school based social worker who goes above and beyond and fosters community connection. A youth who demonstrates high levels of leadership not only at his school, but within and beyond Strathcona County. These are just a few of the individuals, businesses, and organizations among the 2023 Strathcona County Awards of Excellence recipients.
Congratulations to the winners:
Mayor's Award
Bryce Clarke
Agricultural Leadership 
Brock Fenske
Arts, Culture and Heritage 
Kay McCormack
Diana Balbar
Athletic Achievement  
Ken Davison
Tyson Rietveld
Community Service
Gwen Randall-Young
Jessica Moen
Terri-Ann Trohubiak
Economic Diversification
Concrete Blonde
True Balance Medical Spa
Heroism and Leadership 
Eric Atkinson
Leta Shannon
Outstanding Group 
Linking Generations
Strathcona Highland Society         
Service to Seniors
Ruth Lineker
Doug Flowers
Youth 
Keegan Kirchen
Terren Algot
Lucas Sawiak
"The Strathcona County Awards of Excellence is the County's opportunity to recognize extraordinary people, businesses and organizations for their contributions and positive impact on our community," says Mayor Rod Frank. "We hope you can join us at Festival Place as we pay tribute to those who help make the County one of Canada's most livable communities."
The awards ceremony will be held on Thursday June 1 at Festival Place starting at 7 p.m. (doors open at 6:30 p.m.) As part of the celebration this year, the event will feature special guest performances and more.
There is no charge to attend the event. More information about the Strathcona County Awards of Excellence is available at strathcona.ca/excellence.
- 30 -
Contact: Strathcona County Communications, 780-410-6595