Strathcona County proud to host RCMP Musical Ride events
May 23, 2023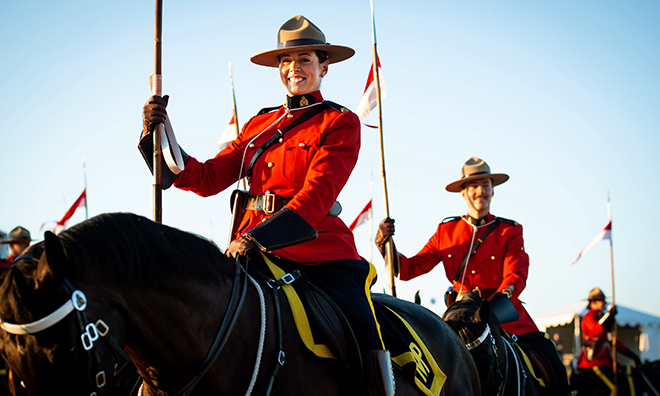 On May 23, the Royal Canadian Mounted Police will mark its 150 anniversary of service to the public and security of our country. Strathcona County is fortunate to have a successful partnership with the Strathcona RCMP to work together towards the shared goal of a healthy and safe community.   
In recognition of the 150-year milestone, Strathcona County is honoured to host two RCMP Musical Rides on June 15 and June 17. 
The June 15 RCMP Musical Ride will take place at 7 p.m., in the fields behind Fultonvale School (52029 Range Road 224).
The June 17 RCMP Musical Ride will take place at 2:30 p.m., in the field behind Ardrossan Junior Senior High School (53129 Range Road 222, Ardrossan). The RCMP Musical Ride will coincide with the Ardrossan Picnic and Parade (hosted by the Ardrossan Recreation and Agricultural Society) as well as the Ardrossan Recreation Complex's free Community Day. 
The public is strongly encouraged to pre-register for both events. Due to space capacity constraints, wristbands are required to be reserved in advance for the June 17 event in Ardrossan. Wristbands can be obtained from County recreation facilities and Bethel Transit Terminal (after 9 a.m. at the transit terminal, due to fare sale demands).
There will be no on-site parking available at either event. FREE Park N' Ride is available from the Bethel Transit Terminal (650 Bethel Drive) in Sherwood Park. Visit strathcona.ca/transit for more information, including Park N' Ride times. 
While both events are free for the public to attend, there are opportunities for businesses to support the hosting of the RCMP Musical Ride events. Opportunities include 'Adopt a Horse' along with a stabling and event site supporter. Contact Dennis.Franklin@strathcona.ca for more information.
The RCMP Musical Ride consists of a troop of up to 28 riders, who are all police officers. The horses perform intricate formations and drills set to music, lasting about 30 minutes. These movements demand the utmost control, timing, and coordination.
Visit strathcona.ca/RCMPMusicalRide for event registration and more information about the RCMP Musical Ride events.

-30-
 
Contact: Strathcona County Communications, 780-410-6595