New spray deck open in McPherson Park
June 30, 2022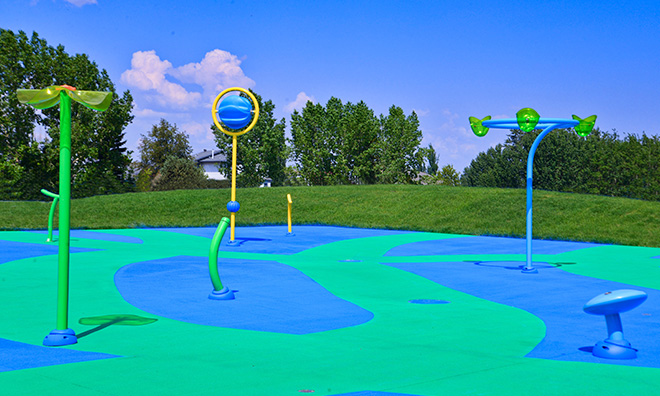 A brand-new spray deck is now open in McPherson Park, located at 400 Regency Drive, Sherwood Park.
The new spray deck, with 14 fun spray features, was designed to complement existing play features in the park and includes solar panels that will be used to power it. The spray deck includes a portable washroom, shading, seating, and a rubberized non-slip surface. The deck can conserve water with a push-on button and an automatic shut-off feature.
Mark your calendar for the grand opening event and FREE Play Day on July 13 from 5 p.m. to 8 p.m., sponsored by Inter Pipeline. Play Days are hosted by Everybody Gets to Play and provide opportunities that appeal to all children like digging in the sand, building forts, playing games, the kind of activities that come naturally to kids!
This new spray deck was approved through the 2017 Outdoor Aquatic Spray Deck and Spray Park Strategy that provided direction on how to plan and implement future outdoor spray deck and spray park facilities.
Spray decks and parks are available from May to September each year, weather permitting.
For more information and a listing of all spray decks and parks in Strathcona County, visit strathcona.ca/SprayDecks.
                                                - 30 -
 
Contact: Strathcona County Communications, 780-410-6595