New water wheelchair supports spray park accessibility
June 15, 2022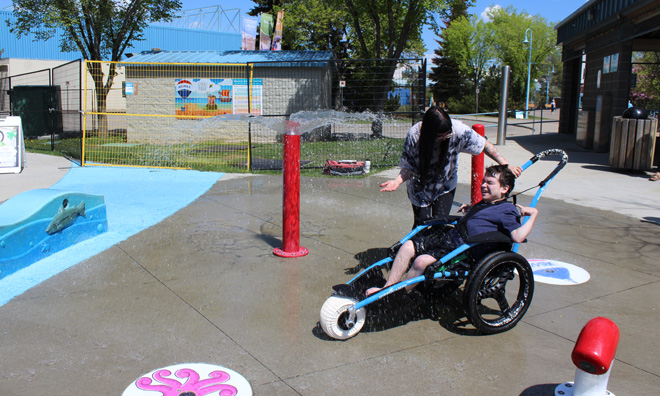 Children and youth will have greater access to spray park activities with a new all-terrain, accessible water wheelchair.
The new water wheelchair, lovingly referred to by staff as "the Sea Horse," is designed for children and youth with physical disabilities. The Sea Horse is now available at specific spray parks throughout the summer months, on a first-come, first-serve basis.
"Through our spray park sponsorships with RE/MAX and ArrKann Trailer & RV, we were able to purchase the Sea Horse and will provide access free of charge," says Dennis Franklin, partnership business development advisor. "This aquatic wheelchair is specifically designed for the outdoors and getting soaking wet. It will help provide children and youth with disabilities with a new way to experience spray parks."
The Sea Horse is designed for individuals between 4'7 and 5'7, with a maximum weight of 285 pounds. A harness is also available for users under 4'7. Starting June 15, the Sea Horse will be available at the RE/MAX Spray Park and Playground, and will move to the ArrKann Spray Park and Playground beginning July 24. Access to the wheelchair can be requested through the spray park attendant, or at the front desk of the neighbouring recreation facility.
Accessibility is an integral component in the Recreation and Culture Strategy, supporting community building and enhancing the quality of life for residents.
For more information, visit strathcona.ca/SprayParks or call 780-467-2211.

Contact: Strathcona County Communications, 780-410-6595