Announcing 2022 Strathcona County Awards of Excellence recipients
May 16, 2022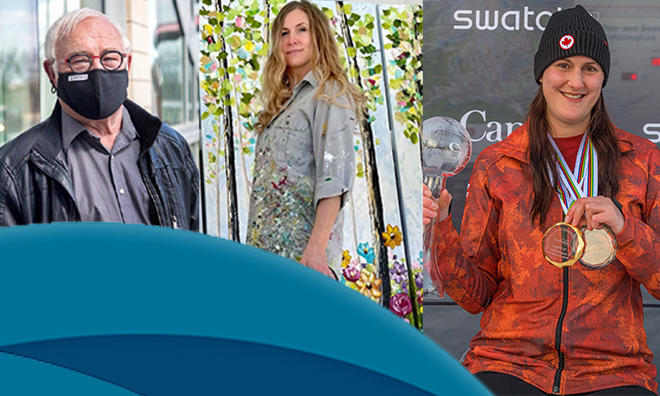 Two Olympians and an innovative robotics team that gave back during the pandemic. A festival showcasing the best of Strathcona County's musical talent and two life-saving heroes. A dedicated community champion and two business leaders. They are just a few of the individuals, businesses, and organizations among the 2022 Strathcona County Awards of Excellence recipients.
Congratulations to the winners:
Mayor's Award
Strathcona Food Bank Association
Agricultural Leadership
Ardelle McPherson
Arts, Culture and Heritage
Giselle Denis
Sherwood Park Music Festival
Athletic Achievement
Lisa DeJong
Kelsey Mitchell
Community Service
Ken Lesniak
Christine Zurburg
Economic Diversification
Russell Bird
Mark Silvius
Heroism and Leadership
Jesse Christenson
Gregg Hansen
Outstanding Group
Ardrossan Recreation and Agriculture Society and Josephburg Agriculture Society
Sherwood Park - Strathcona County Primary Care Network
Service to Seniors
Laurette Phimester
Youth
Alyssa Stoddard
Cyber Eagles Robotics Team
"The Strathcona County Awards of Excellence is our County's opportunity to recognize extraordinary citizens, businesses and organizations for their contributions and positive impact on our community," says Mayor Rod Frank. "We hope you can join us at Festival Place as we pay tribute to those who help make the County one of Canada's most livable communities."
The awards ceremony will be held on Monday June 13 at Festival Place starting at 7:00pm (doors open at 6:30pm). As part of the celebration this year, the event will feature special guest performances and more.
There is no charge to attend event. More information about the Strathcona County Awards of Excellence is available at strathcona.ca/excellence.
- 30 -
Contact: Strathcona County Communications, 780-410-6595