County updates pride crosswalks with inclusive progress flag design
May 13, 2022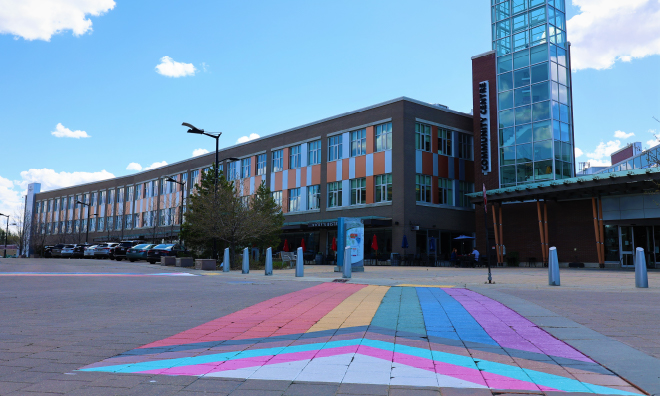 Strathcona County repainted its three pride crosswalks this week with the progress flag colours, updating the original six-colour pride design.
The crosswalks, located at the Community Centre's traffic circle connecting Festival Avenue and Festival Lane, were originally painted with the pride flag colours in 2018.
In addition to the pride stripes, the progress flag design features a five-coloured chevron, with the black and brown elements representing individuals who are Black, Indigenous or people of colour and members of the 2SLGBTQ+ community. The pink, white and blue of the chevron signify the transgender pride flag.
"We're proud to paint the crosswalks outside the Community Centre with the progress flag design. It's important we have these visible signals that all community members are safe, welcome and celebrated here in Strathcona County," says Mayor Rod Frank.
Council has consistently prioritized the pride crosswalk maintenance and other inclusive initiatives, having unanimously passed a motion to participate in Pride Week activities in 2018, aligning with the County's commitment to diversity and inclusion.
Based on the iconic rainbow flag of 1978, American artist Daniel Quasar designed the progress flag in 2018 with the goal of celebrating diversity and representing groups within the 2SLGBTQ+ community who may face additional marginalization due to racism, transphobia or other harmful attitudes.
The County chose the progress flag design in consultation with the altView Foundation and the Strathcona County Diversity Committee, a grassroots organization focused on strengthening the community by promoting safety and inclusion.
"Symbols like the progress flag crosswalks may seem small to some, but there's a lot of power in them. It's impactful for residents to see their community's efforts to be inclusive. It's a pledge to make our community safe for all 2SLGBTQ+ people," says Mike Green, executive director of the altView Foundation.
This symbol could not come at a more important time, adds Green, explaining that in a time where transphobic rhetoric is spreading, the progress flag sends a powerful message that the transgender community is seen and welcome.
Strathcona County will celebrate Pride Month alongside community groups in June. To learn more about the County's commitment to diversity and inclusion visit strathcona.ca/diversity.
-30-
Contact: 

Strathcona County Communications, 780-410-6595

altView Foundation, 780-666-5428
www.altview.ca