New spaces make way for more art at Gallery@501
January 10, 2022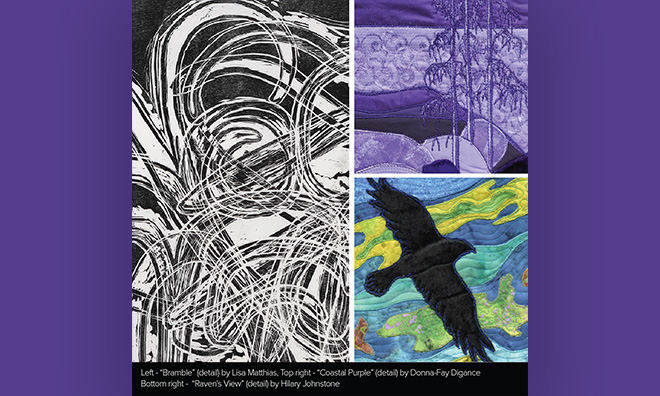 February 1, 2022 edit: please note that the exhibit dates have been extended as follows:
"Infinitesimal" - until April 23, 2022
"Chromatopia" - until April 23, 2022
"For the Birds" - until April 11, 2022
Gallery@501 is wasting no time in starting off an exciting 2022 exhibition season with three Western Canadian artist exhibits: "Infinitesimal", "Chromatopia" and "For the Birds". All three exhibits are on display within newly renovated gallery spaces from January 14 until February 19.
"Infinitesimal", by Lisa Matthias, features artwork that combines art and science through an expression of microscopic elements in nature. Lisa has created large-scale woodcut prints that reflect the beauty in the tiny details of plants, cells and other natural matter. Through an exploration of traditional and experimental printmaking processes, soundscapes and animation, Matthias creates an immersive exhibit that inspires wonder in the natural world. Matthias is an artist, printmaker and ecologist living in Alberta, Canada.
"Chromatopia" is a Fibre Art Network (FAN) exhibition inspired by Picasso's monochromatic works in his blue period. The FAN is a co-operative of Western Canadian artists committed to promoting fibre as an art form; membership includes emerging fibre artists, teachers, authors and judges. Each artist was challenged to explore their own individual theme through the creation of two monochromatic textile artworks using two assigned colour hues. This colourful display of 94 works celebrates the colour spectrum through fabrics and textures.

"For the Birds" is a second exhibition on display from the Fibre Art Network. Each artwork in this exhibit is a personal interpretation of an aspect of a bird's life, its interests and interactions with the world, or is inspired by a bird-related idiom or adage.

A reception for all three exhibits will be held on Saturday, February 5 from 2 p.m. to 4 p.m. This is a pre-registered event, requiring an RSVP by February 4 by contacting 780-410-8585 or artgallery@strathcona.ca. Gallery@501 will be following all provincial COVID-19 health guidelines.
Admission to the gallery is free. Residents can visit strathcona.ca/gallery501 to view a list of upcoming exhibits, art classes or to sign up for Gallery@501 e-news. Through virtual and in-person programs, artist talks, social media engagement, and multi-sensory exhibit experiences, Gallery@501 continues to support, inspire and grow a love of the arts while providing a welcoming space for all.

Contact: Strathcona County Communications, 780-410-6595