Wildcats Football Club to play 2021 season home games at Emerald Hills Regional Park
August 9, 2021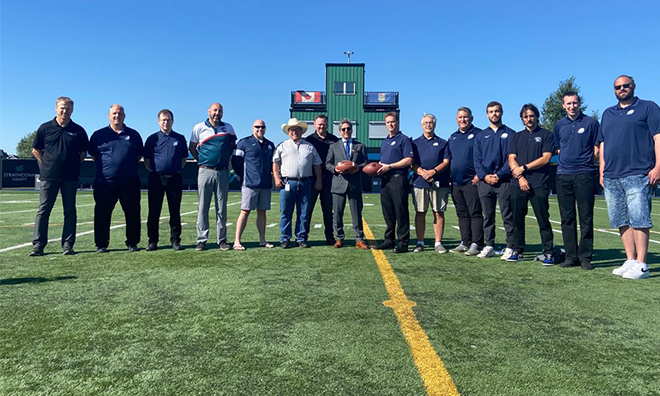 Strathcona County and the Wildcats Football Club are proud to announce the Wildcats will be playing their 2021 season home games at the Emerald Hills Regional Park between August 28 and October 23, 2021.
The Wildcats compete in the Prairie Football Conference of the Canadian Junior Football League. This league has been a stepping stone for many athletes to advance to University and Collegiate football, as well as professional football in the Canadian Football League. Strathcona County football players currently on the roster include graduates from Ardrossan, Bev Facey and Salisbury high schools.
"Strathcona County is an active sporting community, and we are excited to welcome the Wildcats Football Club for the 2021 season. We look forward to watching the team hit the field at Emerald Hills Regional Park and to welcome all visiting teams to our county," says Strathcona County Mayor Rod Frank.
"The Wildcats are tremendously excited to play our home games at Emerald Hills Regional Park for the 2021 season. From the beginning, everyone in Strathcona County, from Mayor Frank to County Administration, have been first class to deal with. We hope that we can bring an exciting brand of football to Strathcona County this season," says Wildcats Football Club President Brad Gatschene.
The Prairie Football Conference season begins August 22, 2021, with the first home game for the Wildcats on August 28. For more information on the season schedule, visit edmontonwildcats.com/2021-game-schedule/ .
Visit strathcona.ca/EHRP for information about Emerald Hills Regional Park.
- 30 -
 
Contact:
Strathcona County Communications, 780-410-6595
Wildcats Football Club President Brad Gatschene, 780-264-1321