Festival Place exterior upgrades to begin
July 5, 2021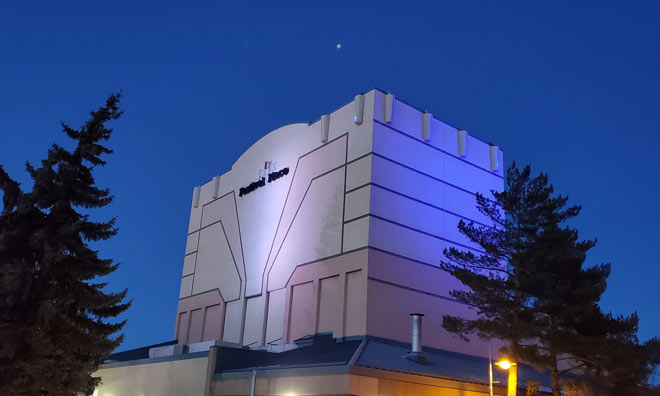 Construction to replace the exterior cladding on Festival Place is scheduled to start the week of July 5.
This major upgrade involves re-insulation and replacing the existing stucco with new stucco and black panel accents. Repairs to the building envelope, stucco and downspouts will improve weather proofing and correct water leakage issues. The exterior electrical and building lighting will be upgraded, and a new lighting feature added to display changing colours in various locations on the building.
Festival Place will be operational during construction. Temporary fencing and overhead protection will be installed around the building. Walkways around Festival Place will remain open, except for a short section at the northwest corner. When this section is closed, signage will direct pedestrians to nearby alternate routes. For everyone's safety, visitors to the area are asked to follow all construction site and detour signage.
The major work is expected to be completed by the end of 2021, with some "seasonal" portions to be finished in the spring of 2022.
Festival Place opened in April 1994, and since then has welcomed thousands of people of all ages to enjoy a wide variety of performing arts programs and community events each year.
The Patio Series on Canada Day kicked off the reopening of Festival Place after being closed due to COVID-19 since November 2020 performances. During construction, the Patio Series will take place in the Peace Park within the Broadmoor Lake area, just north of Festival Place.
For more information and upcoming shows visit festivalplace.ca.
- 30 –
Contact: Strathcona County Communications, 780-410-6595