Strathcona County brings Arbor Day celebration to students in Grades 1 and 2
May 6, 2021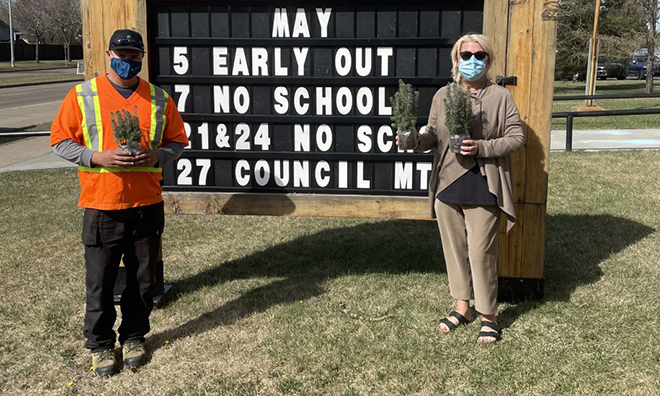 This week, Grade 1 and 2 students from 23 Strathcona County schools celebrated Arbor Day by participating in virtual educational activities and receiving a seedling of their very own.

Arbor Day is an annual celebration to teach children about the importance of trees in everyday life. Traditionally, Arbor Day festivities are held for Grade 1 classes in the County, however due to the cancellation of the Arbor Day celebration in 2020, this year's program included the opportunity for Grade 2 classes to participate as well. Seedlings were provided by Alberta Agriculture and Forestry for this province-wide initiative. Many students plant their seedlings at home and watch them grow for years to come.

In addition to enjoying the educational activities and videos provided, students were invited to participate in a leaf decorating contest. This year's winning school, Davidson Creek Elementary, was chosen out of 23 other participating schools. The winning class will enjoy a virtual fitness class to encourage physical activity in the outdoors. Davidson Creek Elementary will also have a tree planted at their school to commemorate Arbor Day.

The Gallery@501, located in the Community Centre at 501 Festival Avenue, Sherwood Park, features the students' tree-inspired artwork. Residents are invited to view the artwork display decorating the main windows of the gallery, viewable from outside.  

Enbridge is the proud sponsor of this year's Arbor Day celebration in Strathcona County.
- 30 -
Contact:
Strathcona County Communications, 780-410-6595