Announcing 2021 Strathcona County Awards of Excellence recipients
May 19, 2021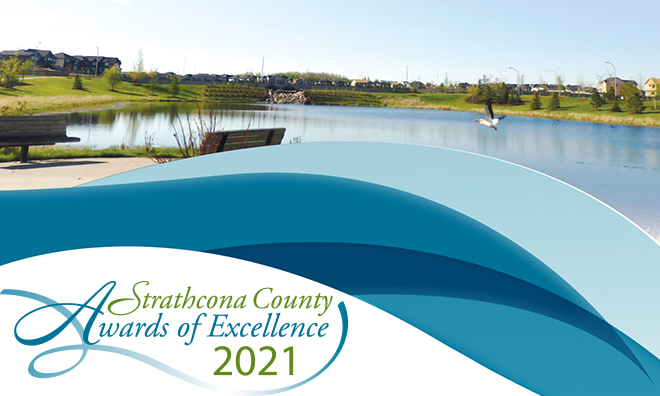 Awards ceremony – June 3
The 2021 Strathcona County Awards of Excellence recipients have distinguished themselves and contributed to our community in many ways. Showing leadership, strength and courage to help others, building a safer community and mentoring our youth are some of the achievements that will be celebrated at the Strathcona County Awards of Excellence.
Strathcona County is pleased to announce the 2021 recipients:
Mayor's Award
Tim Carwell
Lisa DeSousa
Krystal Hampel
Tanya Saumure
Agricultural Leadership
Billie Borys
Eileen Bona
Arts, Culture and Heritage
Joe Balogh
Roy Teske
Strathcona County Library Bookmobile
Community Service
Barb Henderson
Gayle McCarthy
Economic Diversification
Engage Construction Management and Consulting
Kepler Academy Emerald Hills
Heroism and Leadership
Andrew Buchanan
Eileen and Ian Edwards
Outstanding Group
Friends of Strathcona County Library Society
Strathcona County Diversity Committee
Service to Seniors
Linking Generations Society of Alberta
Service to Youth
CanTeen Youth Hub
Lorri Jesse
"The past 12 months have been incredibly difficult on our community. Yet, I have been inspired time and time again by the actions of so many who have stepped up to support one another throughout this pandemic," says Mayor Rod Frank. "The Strathcona County Awards of Excellence is our opportunity to recognize these extraordinary people for their contributions and their positive impact on our community. Everyone is welcome to attend as we pay tribute to individuals and groups whose contributions help make the County one of Canada's most livable communities."
The awards ceremony will be held on Thursday, June 3 via Zoom, from 7 p.m. to 8:30 p.m.  As part of the celebration this year, the event will feature a guest performance by Rianna Burgess. Another special guest, Maren Richardson, will perform the national anthem at the ceremony.
There is no charge to attend this public, virtual event. More information about the Strathcona County Awards of Excellence and a link to the event is available at strathcona.ca/excellence.
Set in the centre of Alberta's energy and agricultural heartland, Strathcona County is a thriving, successful and vibrant community of over 98,000 residents. Strathcona County is made up of the urban area of Sherwood Park and a large adjacent rural area of farms, acreages and smaller hamlets. It is home to 75 per cent of refining in Western Canada. With a focus on economic, governance, social, cultural and environmental sustainability, Strathcona County is committed to balancing the unique needs of its diverse community.
- 30 -
Contact: Strathcona County Communications, 780-410-6595