Traffic flow changes coming to Sherwood Drive and Wye Road area
May 13, 2021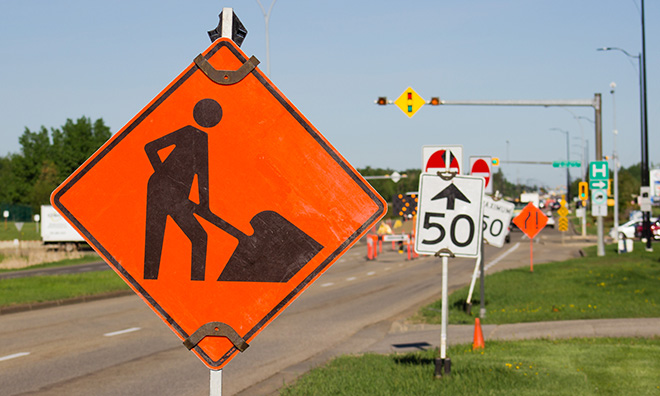 Several arterial road construction projects starting in May
Permanent traffic flow changes are coming to the intersection at Walmart and Ordze Avenue, with the final phase of construction on the Sherwood Drive Functional Improvement projects now underway.
Final improvements include lane changes and traffic signal relocation to improve traffic flow, safety and access along this high-traffic corridor:
The Walmart/Ordze Avenue intersection signals will be removed, with the intersection modified to right-in/right-out and northbound left-in through the installation of concrete medians. 
New signals will be installed at Ash Street/Wye Gardens intersection. 
Other improvements include the addition of a double left-turn lane on Wye Road, turning onto Sherwood Drive (south), new concrete, traffic signals, and roadway repairs and asphalt overlay.
There will be various lane closures in the area, with a significant lane closure at the Walmart/Ordze Avenue intersection planned from May 17 to early June. Motorists and pedestrians will be redirected via traffic control devices. All construction for this project is expected to be complete by mid-July, pending weather and any unforeseen circumstances.
The Sherwood Drive Functional Improvements project has been in the works since 2009, with a focus on meeting long-term traffic demands for both existing and proposed area development. Planning for this location has involved public engagement with area business stakeholders and with residents.
To learn more about the project and to see the new traffic routing patterns, visit the project webpage: strathcona.ca/sherwooddrive.
Other arterial road projects starting in May
For 2021, major road construction projects in Sherwood Park will include:
Bethel Way – New road construction of undeveloped land extending Bethel Way from Bison Way to Lakeland Drive, improving access for emergency services and supporting traffic growth in the area.
Broadway Boulevard – Construction of a new roundabout in the intersection of Broadview Drive and Broadway Boulevard and new sidewalk construction to improve traffic flow and safety, along with milling and asphalt overlay of Broadway Boulevard from Broadmoor Boulevard to Bethel Drive.
Wye Road – Asphalt milling and final lift paving between Brentwood Boulevard and Clover Bar Road, multi-use trail construction between Estate Drive and Clover Bar Road (south side), and concrete island replacement at Clover Bar Road intersection.
Several other arterial road construction projects will also start in May. These include improvements to existing sidewalks, curbs, medians and asphalt roadways at the following locations:
Seneca Road (Chippewa Road to Cree Road)
Cree Road (Athabascan Avenue to Kaska Road)
Sioux Road (Broadmoor Boulevard to Woodbridge Way)
Baseline Road eastbound single lane (Broadmoor Boulevard to Sherwood Drive)
Premier Way (Prairie Drive to Pembina Road)
Pembina Road (Broadmoor Boulevard to Premier Way)
Range Road 232 (Highway 16 to 250 metres north of Liberty Road)
To learn more about these projects and traffic impacts, please visit strathcona.ca/countyworks.
With several active construction zones, motorists are encouraged to take their time and plan their routes, where possible.
Construction zone reminders:
For the safety of County staff and contractors, please be patient when driving through construction zones.
Slow down and always obey the speed limit.
Reduced speed limits are in effect even when workers are not present, as hazards may still exist.
 
- 30 –
Set in the centre of Alberta's energy and agricultural heartland, Strathcona County is a thriving, successful and vibrant community of over 98,000 residents. Strathcona County is made up of the urban area of Sherwood Park and a large adjacent rural area of farms, acreages and smaller hamlets. It is home to 75 per cent of refining in Western Canada. Strathcona County is a leader in environmental conservation, and 55 per cent of its land is within the UNESCO Beaver Hills Biosphere. With a focus on economic, governance, social, cultural and environmental sustainability, Strathcona County is committed to balancing the unique needs of its diverse community.
 
Contact: Strathcona County Communications, 780-410-6595