Gallery@501 kicks off tenth anniversary celebration with online exhibit by Métis artists
March 4, 2021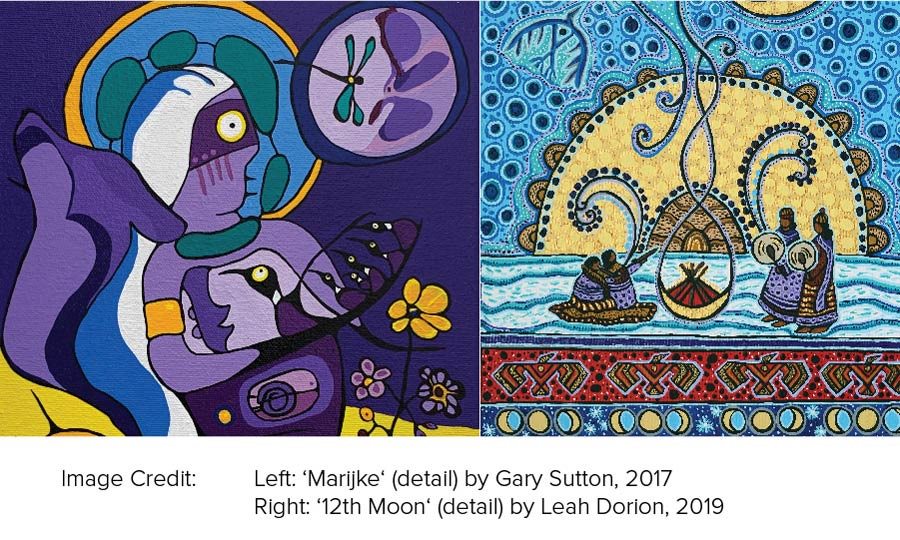 This month, Strathcona County's Art Gallery@501 is celebrating 10 years of serving the community through inclusive arts and culture opportunities.
Since March 2011, Gallery@501 has hosted over 60 exhibitions and thousands of visitors for international, national and local exhibits, school and community group programs, and art classes for all ages.
Special events and experiences, celebrating the gallery's 10 anniversary as a vibrant place for visual arts in the community, will be available throughout the year. From March 11 to April 24, Gallery@501 will present (virtually) Walking Gently: Spirit Stories and the 13 Moons by two Métis artists, Leah Dorion and Gary Sutton. Both artists seek to share storytelling, cultural knowledge and connection through their artwork.
Artist, Leah Dorion, is from Prince Albert, Saskatchewan. Dorion works as a teacher, painter, filmmaker and writer. She shares ancestral stories of Indigenous 13 moon teachings through decorative, symbolic paintings of traditional ceremonies and lunar cycles, with accompanying poetry.
Artist, Gary Sutton, is from Redwood Meadows, Alberta. He is inspired by the Professional Native Indian Artists Incorporation and paints in the Woodland Style, also known as legend or medicine painting. Sutton creates powerful storytelling, by painting stylized animals and symbols representing the character and spirit of each person he paints.
Walking Gently: Spirit Stories and the 13 Moons will open virtually on the Gallery@501 website at strathcona.ca/walkinggently. This exhibit will also feature virtual engagement opportunities throughout its showing including exhibit tours with gallery staff, artist videos and a virtual talk featuring both artists on April 24. Should COVID-19 provincial restrictions ease, this exhibit may also be available for viewing in-person.
For more information about this exhibit and virtual activities, visit strathcona.ca/gallery501 or call 780-410-8585.
 - 30 -
 Contact: Strathcona County Communications, 780-410-6595