Strathcona County drumming up holiday spirit with annual Celebration of Lights
November 17, 2021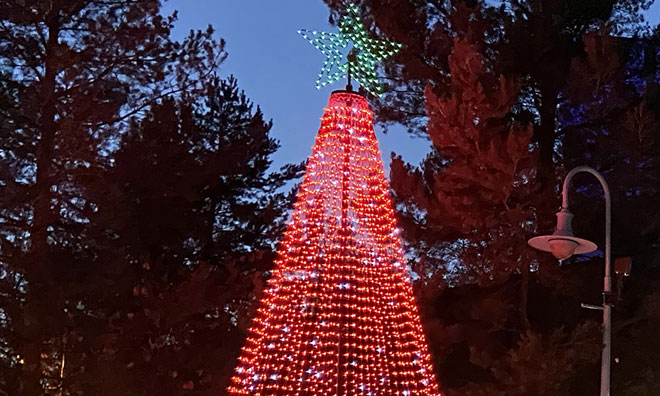 Strathcona County's holiday season is set to kick off with a merry ensemble of lights, songs, games and a visit from the jolly man up north.
Celebration of Lights takes place outdoors at Festival Place on November 20 from 3 p.m. to 5 p.m., featuring an afternoon full of holiday cheer and various family-friendly events. Residents will witness the LED tree light up at Festival Place and Broadmoor Lake Park light up at 5 p.m., an appearance from Santa, his reindeer and holiday carolers. Several holiday-themed activities such as campfire cooking, pony rides, a scavenger hunt and selfies with Santa will also be available. The LED tree and lights will be viewable throughout the holiday season at Festival Place.
Donations can be made during the event to the Strathcona County Food Bank at the Food Bank Tent. In-person donations can also be made at the Strathcona County Food Bank location at 255 Kaska Road, Sherwood Park from 9 a.m. to 12 noon, Monday to Friday.
Festival Way will be closed from 2:30 p.m. to 5:30 p.m. Parking is available at surrounding facilities, there will be no parking available at Festival Place.
The Celebration of Lights is hosted outdoors and is therefore excluded from Strathcona County's adoption of the Provincial Restriction Exemption Program. In accordance with provincial health restrictions, two-meter physical distancing must be maintained by attendees at all times.
-30-
 
Contact: Strathcona County Communications, 780-410-6595