Festival Place celebrates 20-year partnership with Qualico Communities
September 17, 2020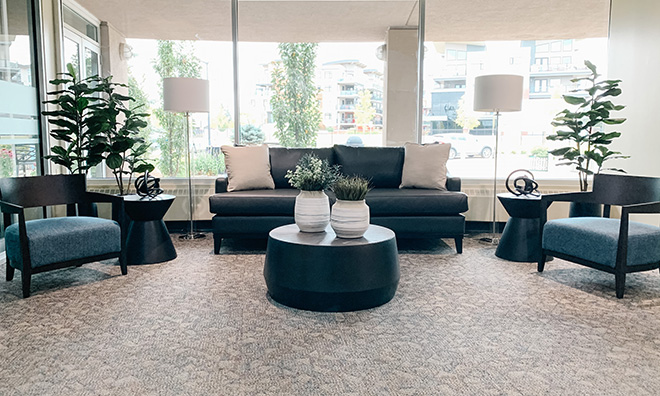 The mission of Festival Place is 'to enhance the quality of life of Strathcona County residents through increased cultural, social and economic activities.' Thanks to strong partners like Qualico Communities, Festival Place is making that mission a reality.
When Festival Place re-opens its doors this September, the community will be welcomed by a special new feature, the designQ Lounge by Qualico. This latest endeavour between Festival Place and Qualico Communities, celebrates a 20-year cultural partnership.
Located in the lobby of Festival Place, this unique lounge features furniture and décor exclusively from Canadian-owned and operated businesses. Designed by Qualico's Interior Design Centre, designQ, the furniture from the lounge will also be utilized for the Café Series by Qualico Communities, setting the tone for more of a "house-concert" atmosphere.
In the year 2000, Qualico first sponsored Festival Place's Summer Patio Series. The Series, which runs every Wednesday evening in July and August, was created to provide accessible and affordable entertainment, and to showcase up and coming local artists. A favourite amongst community goers, the Qualico Patio Series now features artists from across Alberta, Canada and beyond. With support from Qualico Communities, ticket prices for the summer performances have continued to remain affordable and the concert experience second to none.
In 2008, Festival Place introduced a new series offering patrons a more intimate audience experience, featuring lesser-known artists working to build their careers. Qualico came onboard as a sponsor in 2012, and the series soon became known as the Café Series by Qualico Communities. The goal of the Café Series has always been to strike a balance - making sure the patrons' desire for the familiar and recognized is blended with opportunities to hear the new or perhaps less conventional performances, all for an affordable ticket price in an intimate and laid-back atmosphere.
Visit festivalplace.ab.ca or call 780-464-2858 to learn more about Festival Place's latest shows and events for 2020 including two Patio Series performances on September 19 and 26, and the Café Series kicking off this fall. All scheduled performances meet Alberta Health Services guidelines to help prevent the spread of COVID-19 in Strathcona County.

About Qualico Communities
With over 40 years of experience in land development, Qualico Communities has grown to become the largest land developer in the capital region. We start with a simple goal: to create a community that people want to call home. This vision guides us every time we service a home site, pave a road, or assemble a playground. Our team doesn't just build our communities — we live in them, too.
We're committed to creating healthy, vibrant, and economically strong communities.
designQ is the interior design centre for three of Edmonton's largest home builders - Pacesetter Homes, Sterling Homes & Streetside Developments - all part of the Qualico Group of Companies.

About Strathcona County
Set in the centre of Alberta's energy and agricultural heartland, Strathcona County is a thriving, successful and vibrant community of over 98,000 residents. Strathcona County is made up of the urban area of Sherwood Park and a large adjacent rural area of farms, acreages and smaller hamlets. It is home to 75 per cent of hydrocarbon processing in Western Canada. Strathcona County is a leader in environmental conservation, and 55 per cent of its land is within the UNESCO Beaver Hills Biosphere. With a focus on economic, governance, social, cultural and environmental sustainability, Strathcona County is committed to balancing the unique needs of its diverse community.
- 30 -
Contact: Strathcona County Communications, 780-410-6595