County surveying public about expanding mandatory face-coverings in all indoor locations and public vehicles-for-hire
July 30, 2020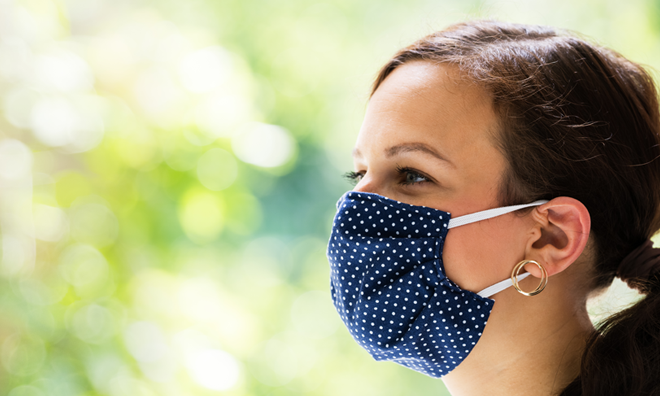 County surveying public about expanding mandatory face-coverings in all indoor locations and public vehicles-for-hire
As part of Strathcona County's continued efforts to stop the spread of COVID-19, the County is inviting the public to share their opinions on expanding mandatory face coverings (eg: non-medical masks) to all indoor public settings and public vehicles-for-hire, throughout Strathcona County.
The bylaw would not apply to areas that are not open for general public access (e.g. schools, daycares), and there would be exceptions for people unable to wear face coverings.
The survey is available online at Strathcona.ca/engagement and is open until 3 p.m. on August 4, 2020.
Survey results will be included as part of Council's consideration of a new bylaw during a special Council meeting on August 6, 2020 that would require mandatory use of non-medical masks in all public indoor spaces and public vehicles for hire throughout Strathcona County (e.g. malls, grocery stores, retail businesses, places of worship).
The proposed bylaw would be in addition to Strathcona County's recent action to require face coverings (eg: non-medical masks) in all County-owned indoor facilities and public transit amenities, beginning August 4, 2020.
Strathcona County believes in a unified approach, in step with its regional partners, to further reduce the risk of COVID-19 transmission and prevent a spike in infection rates. This is especially important for preparing for a safe return to schools and supporting the local economy.
Everyone can help protect themselves and others from COVID-19 by practicing good hygiene, maintaining physical distancing, wearing a mask in public, getting tested and monitoring for symptoms. Learn more at alberta.ca/prevent-the-spread.
As part of the Government of Alberta's province-wide distribution plan, Masks for Albertans, non-medical masks are available to the public at the Bethel Transit Terminal during customer service hours, located at 650 Bethel Drive, Sherwood Park (while quantities last). Limited supplies of non-medical masks will also be available at select County indoor recreation centres and the Community Centre. Visit strathcona.ca/masks or call 780-464-8111 for more information.
Current exceptions for face coverings (eg: non-medical mask use) in County buildings/services, as of August 4, 2020, include:
Children under two years of age
People with underlying medical conditions or disabilities that prevent them from safely wearing a face covering and those who cannot wear or remove one without assistance
People eating or drinking inside public spaces that offer food or beverages
People exercising or engaging in athletic activities
Caregivers or those accompanying someone with a disability.
Ongoing safety-based approach
The health and safety of the community, including County staff, remains the top priority as the COVID-19 situation continues to change.
Strathcona County has implemented additional preventative measures to limit the spread of infection. Strathcona County meets, and in many cases exceeds, Alberta Health Service's cleaning and disinfection protocols for COVID-19. For more information on the County's cleaning protocols, visit strathcona.ca/cleaningprotocols
Strathcona County's Emergency Management Agency continues to action contingency planning and response to COVID-19.
As this health crisis unfolds, information will continue to evolve and change. The information listed in this release, as well as updates, are posted to strathcona.ca/covid19.

Set in the centre of Alberta's energy and agricultural heartland, Strathcona County is a thriving, successful and vibrant community of over 98,000 residents. Strathcona County is made up of the urban area of Sherwood Park and a large adjacent rural area of farms, acreages and smaller hamlets. It is home to 75 per cent of hydrocarbon processing in Western Canada. Strathcona County is a leader in environmental conservation, and 55 per cent of its land is within the UNESCO Beaver Hills Biosphere. With a focus on economic, governance, social, cultural and environmental sustainability, Strathcona County is committed to balancing the unique needs of its diverse community.
- 30 -
Contact: Strathcona County Communications, 780-410-6595