Traffic changes coming to Sherwood Drive/Wye Road area
July 23, 2020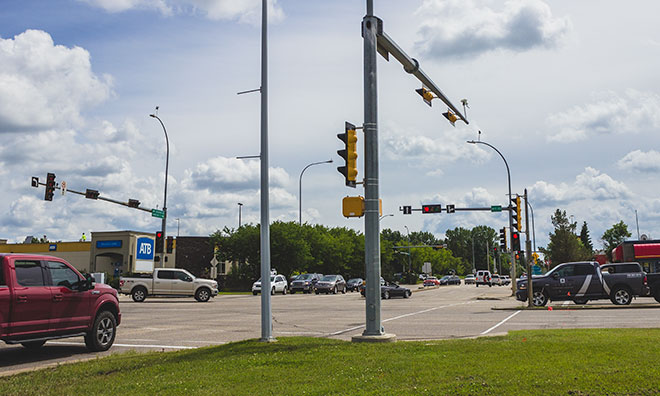 Major construction will start early August in the area of Sherwood Drive and Wye Road, in order to improve traffic flow, pedestrian access and safety, and overall road safety standards.
The Sherwood Drive Functional Improvements project has been in the works since 2009 to meet long-term traffic demands along Sherwood Drive/Range Road 233 between Village Drive and Ash Street/Wye Road Gardens. Planning for this location has involved public engagement with area business stakeholders and with residents.
Improvements include access changes to retail locations along Ordze Avenue, Wye Road and Fir Street. This includes:
Add an additional left turn lane for cars going westbound to southbound at the Wye/Sherwood intersection.
Lengthen the left turn lane for cars going northbound to westbound at the Wye / Sherwood intersection.
Lengthen the northbound left turn lane from Sherwood Drive onto Fir Street (west).
Removal of traffic signals at Walmart/Ordze Avenue/Range Road 233, converting intersection to right-in/right-out and north bound left-in only.
Conversion of the all directional access along Sherwood Drive at Sherwood Centre (Petro Canada/Shoppers Drug Mart) to right-in/right-out only.
Signals will be installed at Ash Street/Wye Road Gardens intersection at Range Road 233.
Construction will be ongoing throughout the summer, and is anticipated to be completed by the fall, weather permitting. Motorists and pedestrians will be redirected via traffic control devices, with lane closures in various locations throughout project phases.
Construction on Wye Road is also underway. Traffic along Wye Road between Estate Drive and Clover Bar Road will be limited to one lane in each direction at times. 
With several active construction zones, motorists are encouraged to take their time and plan their routes, where possible.
Construction zone reminders:
For the safety of County staff and contractors, please be patient when driving through construction zones.
Slow down and always obey the speed limit.
Reduced speed limits are in effect even when workers are not present, as hazards may still exist.
To learn more about this project, visit the project webpage.

Set in the centre of Alberta's energy and agricultural heartland, Strathcona County is a thriving, successful and vibrant community of over 98,000 residents. Strathcona County is made up of the urban area of Sherwood Park and a large adjacent rural area of farms, acreages and smaller hamlets. It is home to 75 per cent of refining in Western Canada. Strathcona County is a leader in environmental conservation, and 55 per cent of its land is within the UNESCO Beaver Hills Biosphere. With a focus on economic, governance, social, cultural and environmental sustainability, Strathcona County is committed to balancing the unique needs of its diverse community.
- 30 -
Contact: Strathcona County Communications, 780-410-6595