Trans Mountain signs a $225,000 Community Benefit Agreement with Strathcona County
July 16, 2020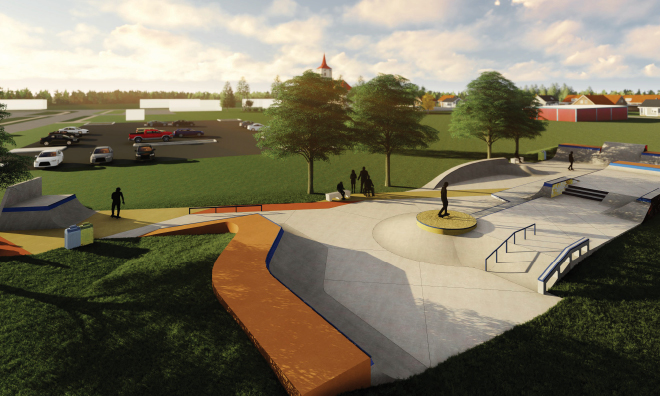 Trans Mountain and Strathcona County have signed a Community Benefit Agreement that will see a $225,000 investment towards a new skate park in the Hamlet of Ardrossan. Originally signed in 2015, funds from this agreement have supported the skate park's construction costs and will also support free activities and programs to be coordinated by Strathcona County over the next five years.
"We are committed to providing local and direct benefits to the communities the project may impact during construction. This park will provide an important community amenity to Strathcona County by creating a gathering space for youth and families to be active outdoors," says Siobhan Vinish, Vice President, Public Affairs, Trans Mountain Corporation.
The skate park is the first of its kind in Strathcona County's rural hamlet of Ardrossan. Earlier this year, residents were able to provide input on the preliminary design concepts. The skate park is expected to open to the public this fall. In addition, as part of Strathcona County's public art plan, artists Peter Gegolick and Shelby Willis have created a first draft of mural designs for the skate park, based on ideas submitted from local youth. For more information about the mural designs and opportunities for input, visit strathcona.ca/ardrossanskatepark or call 780-467-2211.
"Strathcona County is grateful to Trans Mountain for their support. This rural skate park will help our community build strong connections through recreation. This partnership enables us to provide additional free programming to youth enjoying the skate park," says Strathcona County Mayor, Rod Frank.
Trans Mountain values the relationships it has built with communities along the pipeline corridor that span over our 65-year history. We have signed Community Benefit Agreements along 95 per cent of the pipeline route, which help with initiatives from education and training opportunities, to investing in infrastructure and park and trail improvement projects. The funds help to compensate for public inconvenience and temporary disruption caused in the route communities during construction.
Strathcona County is part of Trans Mountain's Greater Edmonton construction area, which includes approximately 50 kilometres of pipeline construction, 14 trench-less crossings using horizontal direction drilling, and terminal work. Trans Mountain began construction at Edmonton Terminal, located in Strathcona County, in July 2019 which includes four new storage tanks and four pumps added to the pump station, and pipeline construction began in December 2019.
For more information on the Trans Mountain Expansion Project, please visit transmountain.com.
For more information on Strathcona County, please visit strathcona.ca.

Media contacts
Trans Mountain Media Relations
(604) 908-9734 or (855) 908-9734
media@transmountain.com
Strathcona County Communications
(780) 410-6595
info@strathcona.ca

About Trans Mountain
Trans Mountain Corporation operates Canada's only pipeline system transporting oil products to the West Coast. We deliver nearly 300,000 barrels of petroleum products each day through 1,150 kilometres of pipeline in Alberta and British Columbia, and 111 kilometres of pipeline in Washington state.
The Trans Mountain Expansion Project will provide increased capacity to support Canadian crude oil production growth and ensure access to global energy markets. The largest project in the pipeline's history, it involves installing approximately 980 kilometres of new pipeline, new and modified facilities including pump stations and terminals, and a new dock complex at the Westridge Marine Terminal in Burnaby, British Columbia.
As a federal Crown corporation, Trans Mountain Corporation will continue to build upon Trans Mountain's 65 years of experience delivering operational and safety excellence through our crude oil pipeline system.
About Strathcona County
Set in the centre of Alberta's energy and agricultural heartland, Strathcona County is a thriving, successful and vibrant community of over 98,000 residents. Strathcona County is made up of the urban area of Sherwood Park and a large adjacent rural area of farms, acreages and smaller hamlets. It is home to 75 per cent of hydrocarbon processing in Western Canada. Strathcona County is a leader in environmental conservation, and 55 per cent of its land is within the UNESCO Beaver Hills Biosphere. With a focus on economic, governance, social, cultural and environmental sustainability, Strathcona County is committed to balancing the unique needs of its diverse community.
- 30 -