Strathcona County services and facilities holiday schedule
December 21, 2020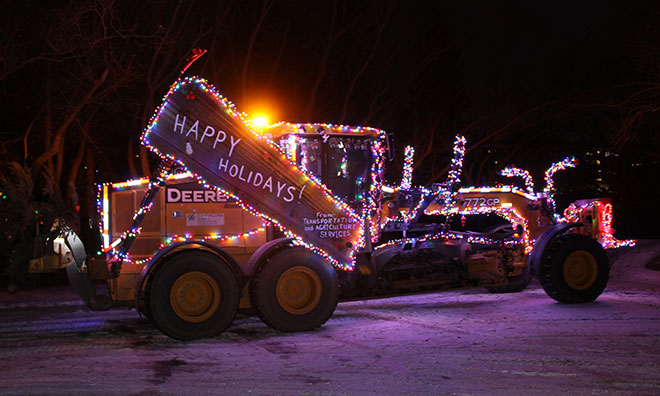 Please be advised that most County in-person, phone services and facilities will be closed from Wednesday, December 23, 2020 at 4:30 p.m. until Monday, January 4, 2021 at 8:30 a.m.
Many outdoor recreation opportunities remain open as road, trail and recreational ice surface maintenance will continue over the holiday break. Waste collection will also proceed, with date modifications made to Friday collection areas only. County Hall shipping/receiving is closed for deliveries.
Programs and resources that affect the health, safety and security of Strathcona County residents will remain available over the holidays. Hours of operation and contact information are listed below.
RCMP and Enforcement Services
For emergencies, call: 911 (24/7)
For complaints call: 780-467-7741 (24/7)
In-person front counter services:

December 24 – 28: closed
December 29 – 31: open 9 a.m. to 4 p.m.
January 1 – 3: closed
Outside of listed hours, the public can access assistance using the after-hours public phone, located inside the front door of the detachment (911 Bison Way, Sherwood Park). In an emergency, call 911.
If you have concerns about a health order violation, phone Alberta Health Services at 1-833-415-9179.

Emergency Services (fire and ambulance response)
Fire and ambulance response remain at normal operational levels over the holiday break. Rural firework permits will continue to be issued over the holidays.
Family and Community Services
Virtual and telephone social supports

December 24 – 28: closed
December 23, 29, 30 and 31: 8:30 a.m. to 4:30 p.m.
January 1 – 3: closed
In an emergency, please call 911. If you are experiencing domestic violence, you can phone A Safe Place Women's Shelter 24 hours a day at 780-464-7233.
For additional crisis and support phone numbers and resources, visit strathcona.ca/crisis.
Recreation
Outdoor skating surfaces, pathways and tracks remain open. The Strathcona Wilderness Centre is open for outdoor activities, including cross-county skiing and snowshoeing from 9 a.m. – 4:30 p.m. (washrooms only available within the facility). The Broadmoor Public Golf Course offers cross-country skiing and snowshoeing trails from 7 a.m. – 11 p.m. (washrooms open from 9 a.m. – 5 p.m.)
Roads 
24-hour line for urgent road or drainage concerns: 780-417-7100
Transit services
There is no transit service on December 25 or January 1. Regularly scheduled commuter and local service is available all other days, along with the extended FREE New Year's Eve service. Visit strathcona.ca/transit for more information.
Library
Library services will be closed Dec 23 – 26, and January 1, but digital collections will be available 24/7 at sclibrary.ca/elibrary. You can also check the library's website for more information on patron support via telephone & email, and a contactless holds pickup service at sclibrary.ca.
Water, wastewater and waste services
24-hour water and wastewater emergency line (780-467-7785): If you are having a water or wastewater emergency, call the emergency line any time and an operator will respond to your call within one hour.. 
For all other inquiries, staff will be checking messages over the break. Please leave a message:

Water and wastewater: 780-467-7785
Missed waste pickup and other waste queries: 780-449-5514

Holiday waste collection schedule change for Friday collection areas only:

December 25 waste/recycling collection moved to December 26
January 1 organics/recycling collection moved to January 2.
Enviroservice and Recycling Station schedule
| | | | |
| --- | --- | --- | --- |
|   | Enviroservice Building | Outdoor recycling bins | Ardrossan Recycle Station |
| Thurs. Dec 24 | Closed | 9 a.m.  - 4:30 p.m | 10 a.m.   - 4:30 p.m. |
| Fri Dec 25 | Closed | Closed | Closed |
| Sat Dec 26 | 10 a.m. - 5 p.m. | 9 a.m. - 6 p.m. | 10 a.m. - 6 p.m. |
| Sun Dec 27 | 10 a.m. - 5 p.m. | 9 a.m. - 6 p.m. | 10 a.m. - 6 p.m. |
| Mon Dec 28 | Regular closed day | 9 a.m. - 6 p.m. | 10 a.m. - 6 p.m. |
| Tues Dec 29 | Regular closed day | 9 a.m. - 6 p.m. | 10 a.m. - 6 p.m. |
| Wed Dec 30 | Regular closed day | 9 a.m. - 6 p.m. | 10 a.m. - 6 p.m. |
| Thurs Dec 31 | Closed | Closed | Closed |
| Fri Jan 1 | Closed | Closed | Closed |

- 30 -
Contact: Strathcona County Communications, 780-410-6595