Embrace the chill with Winter Freeze Fest from December 19 to January 3
December 15, 2020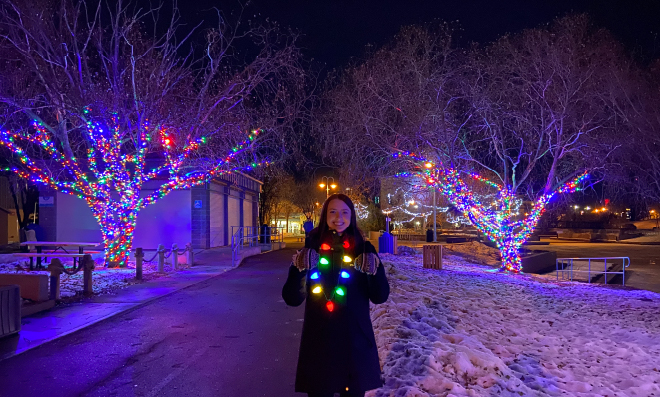 Strathcona County is helping residents celebrate the winter holidays with two weeks of FREE Winter Freeze Fest activities. All activities meet provincial COVID-19 guidelines, with many activities designed to be enjoyed by residents in the comfort of their own homes.
A calendar of activities is available on the Strathcona County website and daily Facebook posts will be sent out from the Recreation, Parks and Culture Facebook page, promoting participation. Residents are encouraged to keep checking the website for additional activities and outdoor experiences to be added.
Some highlights of the Winter Freeze Fest activities include:
Santa Convoy - in Sherwood Park on December 19 and in rural Strathcona County on December 20
Virtual Sing Along - Tuesday, December 22 at 7 p.m.
Celebration of Lights – Wednesday, December 23 from 5 p.m. to 8 p.m.
Snow sculpture photo contest
Crafts and recipes
Outdoor locations to explore in Strathcona County
New Year's at-home activity ideas
Due to the provincial gathering restrictions in place, residents are asked to celebrate New Year's Eve at home this year. The County will not be putting on a New Year's Eve Festival or hosting fireworks, however, residents can visit strathcona.ca/winterfreezefest for activity ideas, including the full holiday event schedule and activity listing for December 19 to January 3.
As a reminder, residents wanting to discharge their own fireworks require a fireworks permit. Fireworks are only permitted on rural private properties. They are not allowed in Sherwood Park, Antler Lake, Ardrossan, Collingwood Cove, Half Moon Lake, Hastings Lake, Josephburg, North and South Cooking Lake.
Applications for permits must be submitted a minimum of two business days before the date of discharge. Apply by emailing fireprevention@strathcona.ca or phone 780-449-9651, Monday to Friday 8:30 a.m. to 4:30 p.m. Applicants are encouraged to apply for their permits before December 18 for the holiday season.
As our community works together to stop the spread of COVID-19, please be kind to each other. Remember to stay six feet apart, wear a mask and wash your hands for 20 seconds with soap and water. The ongoing pandemic and its impacts can be difficult to cope with. Mental health, financial, parenting and other supports are available by calling Family and Community Services at 780-464-4044.
 
Set in the centre of Alberta's energy and agricultural heartland, Strathcona County is a thriving, successful and vibrant community of over 98,000 residents. Strathcona County is made up of the urban area of Sherwood Park and a large adjacent rural area of farms, acreages and smaller hamlets. It is home to 75 per cent of hydrocarbon processing in Western Canada. Strathcona County is a leader in environmental conservation, and 55 per cent of its land is within the UNESCO Beaver Hills Biosphere. With a focus on economic, governance, social, cultural and environmental sustainability, Strathcona County is committed to balancing the unique needs of its diverse community.
- 30 -
Contact: Strathcona County Communications, 780-410-6595