Renovated Kinsmen Leisure Centre now open
October 9, 2020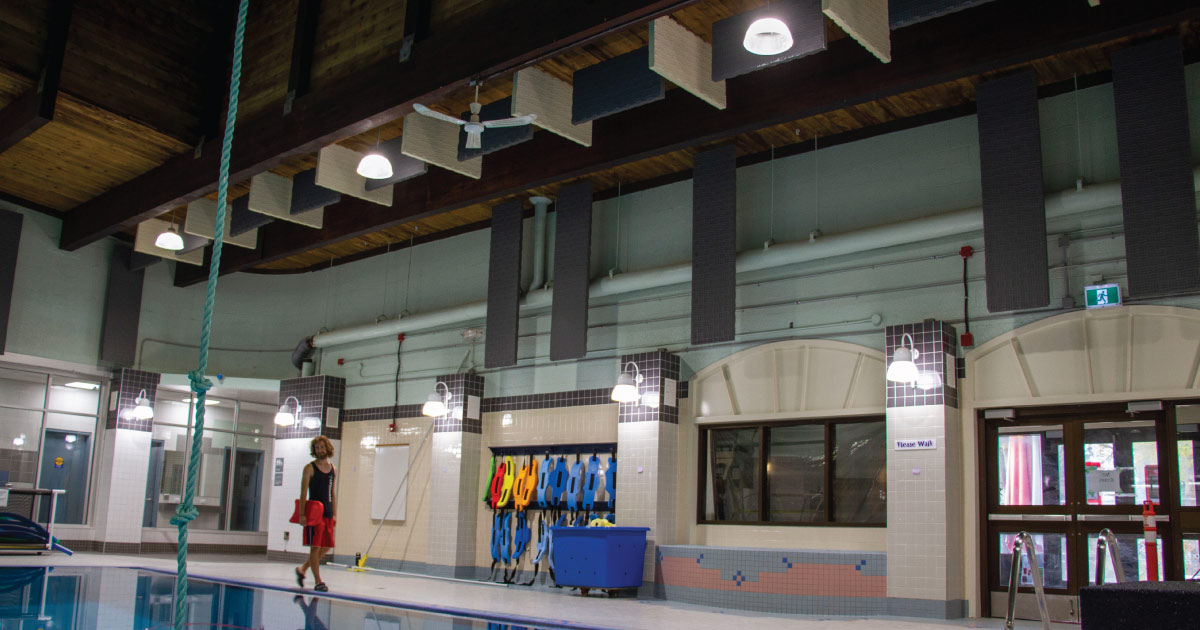 Following an extensive $7M renovation at Kinsmen Leisure Centre, the pool is now open for lap swimming and aquatic fitness classes. Construction on the new universal changeroom is nearly complete, with an expected opening date in November. The existing male and female changerooms have remained open for use.
In addition to the new universal changeroom, renovations include modifications to the specialty change room and an upgraded filtration system. The spacious new universal changeroom will feature 14 private changing options (a combination of cubicles and rooms), with two entrances to the pool deck, and showers at both entrances.
The speciality changeroom now offers one large barrier free room, to be used by one guest and their aid at a time. This changeroom is fitted with a chair in the shower, as well as an adjustable bed for those individuals needing assistance to change.
A  mechanical room was also constructed to house the new filtration system, which is designed to improve the water quality in the kid's pool and whirlpool. 
Construction efforts also included environmentally focused upgrades, such as the replacement of the pool deck's old lighting with new energy efficient LED lights. These new lights meet the requirements of the Municipal Climate Change Action Centre as part of just under a $15,000 grant the County gratefully received for this project.  
"Strathcona County places a priority on managing, investing and planning for sustainable and environmentally responsible infrastructure," says Mayor Rod Frank. "We are thankful for the Municipal Climate Change Action Centre grant, which provided us the funding to invest in new LED lights for the Kinsmen Leisure Centre pool deck."
In early September, a phased re-opening of County recreation programming began with lap swimming only. Aquatic fitness programs have since resumed, and the kids pool and recreational swims will re-open in November. Please visit strathcona.ca/klc for the most up to date information on schedules. 
The whirlpool, and steamroom remain closed throughout County recreation facilities. County staff are in the process of examining the guidance from Alberta Health Services and assessing the feasibility of relaunching. 
As part of our COVID procedures, all swimming activities must to be booked and paid for in advance online. To book your spot, please visit strathcona.ca/swimming or call 780-467-2211.
Set in the centre of Alberta's energy and agricultural heartland, Strathcona County is a thriving, successful and vibrant community of over 98,000 residents. Strathcona County is made up of the urban area of Sherwood Park and a large adjacent rural area of farms, acreages and smaller hamlets. It is home to 75 per cent of hydrocarbon processing in Western Canada. Strathcona County is a leader in environmental conservation, and 55 per cent of its land is within the UNESCO Beaver Hills Biosphere. With a focus on economic, governance, social, cultural and environmental sustainability, Strathcona County is committed to balancing the unique needs of its diverse community. 
- 30 - 
Contact: 
Strathcona County Communications, 780-410-6595