Strathcona County unveils public art piece by local artist
October 21, 2020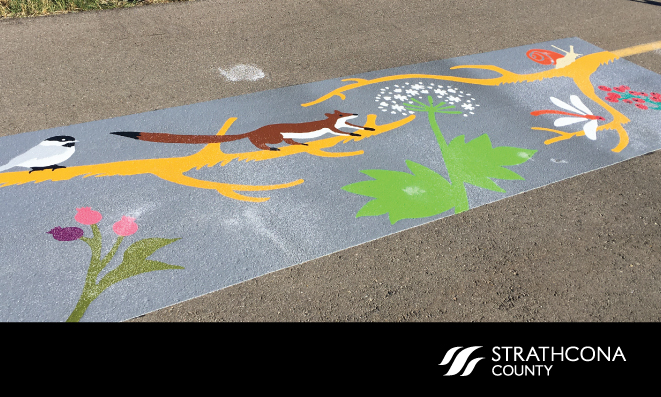 Strathcona County is pleased to announce the community's latest public art piece, "Wilderness Interrupted" by local artist Crystal Driedger. Located on the Strathcona Regional Trail between Streambank Avenue and 17 Street, "Wilderness Interrupted" features three panels celebrating Strathcona County's wildlife and plants.

Each panel has been placed at a rest stop along the trail, highlighting different species from the meadows, wetlands and woodlands. Created from DecoMark, a custom thermoplastic material applied to the asphalt, this public art piece was put together like assembling a giant puzzle and then heated and sealed into place.
Strathcona County artist Crystal Driedger is a painter, wood carver and illustrator. Crystal's artwork can be found in the Royal Alberta Museum, in galleries, retail stores, online and in local markets. In 2017, Crystal's painting "Magpie, Oh Magpie" was purchased for Strathcona County's Permanent Art Collection.
"Wilderness Interrupted" was funded through the 2017 budget, at a cost of $21,700, as part of Strathcona County's public art program. The vision for Strathcona County's public art program is to inspire and preserve Strathcona County's cultural spirit and identity through the creation and installation of art in public places. The County allocates one per cent of the budget for eligible capital projects towards the purchase or commission of public art.

Set in the centre of Alberta's energy and agricultural heartland, Strathcona County is a thriving, successful and vibrant community of over 98,000 residents. Strathcona County is made up of the urban area of Sherwood Park and a large adjacent rural area of farms, acreages and smaller hamlets. It is home to 75 per cent of hydrocarbon processing in Western Canada. Strathcona County is a leader in environmental conservation, and 55 per cent of its land is within the UNESCO Beaver Hills Biosphere. With a focus on economic, governance, social, cultural and environmental sustainability, Strathcona County is committed to balancing the unique needs of its diverse community.
- 30 -
Contact: Strathcona County Communications, 780-410-6595