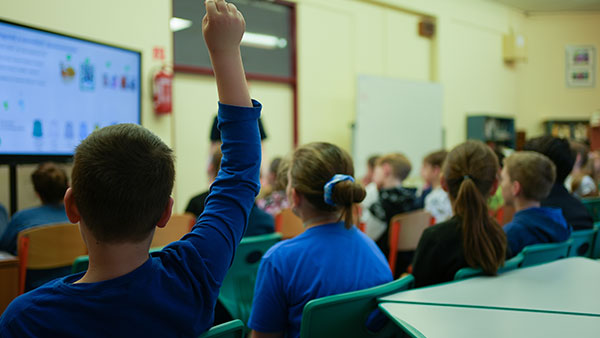 Waste education program
Let's think outside the box together! – We realize that this year is going to be a bit different but we want to offer these free opportunities to you to help keep some creativity, fun and interactive learning in your classrooms.
"Waste in Our World" comes to you! - Grade 4
Students learn about waste management and reduction through an interactive presentation, a class Kahoot and take home activities. 
Green Routine Gurus
We can turn your students into Green Routine Gurus! Complete with their own badge and certificate, we help the students teach their peers about the importance of the Green Routine at school.
Little Green Library
Borrow a bundle of books all about taking care of the environment from our Little Green Library. Free to borrow and we will drop off and collect. Three to choose from.
Beeswax wrap kits
Students can learn how to reduce their plastic waste by making beeswax wraps. These are a fun, reusable alternative to things like foil and plastic wrap. Kits are available free of charge.
Tour the Broadview Enviroservice Station 
Get a behind the scenes look at how household hazardous waste, electronics and other materials are handled in Strathcona County. This program is free and ideal for groups of 30.
We are open to any other suggestions or ideas you might have that we can do to help your class learn about protecting Mother Earth.
Questions?
Erin Wildeboer, Waste Diversion Program Liaison
erin.wildeboer@strathcona.ca
---
Water education program
Yellow Fish Road
Learn how we can keep our stormwater ponds and wetlands healthy.
From wastewater to wetlands
Discover the importance of conserving water and protecting wetlands with simple actions we can do in our homes, backyards, and parks. Learn where our water comes from, where it goes and how wetlands play a large role in water quality treatment.
Global and local water use
Students learn about water availability around the world and in Strathcona County. Activities encourage students to take water conservation actions in their own homes.
Tapped Out - Grades 8 to 12
Students learn the journey water takes from rivers to our taps. Activities encourage students to re-evaluate their understanding of where water comes from.
Questions?
watersaver@strathcona.ca
---
Emergency and safety education
Strathcona County Emergency Services (SCES) Community Safety Educators will connect with every elementary school and private kindergarten class with information on booking for October. Presentations for students are organized at the grade level and will require larger areas such as the gym or library. Educational materials will be provided to each participant.
Student programs
Sparky Visits - Kindergarten
These one hour visits are scheduled from October with every kindergarten class in Strathcona County. Sparky and his friend from Emergency Services will teach kids basic fire prevention skills including stop, drop and roll and the importance of a meeting place.
9-1-1  - Grade 1
Students will learn what is considered an emergency, when it is appropriate to call 9-1-1 and what questions the 9-1-1 dispatcher will ask.
At Home Alone - Grade 5
There is no "right" time for your child to be left alone in the home; the child must feel comfortable with the situation and feel ready for the responsibility. The At Home by Yourself program covers a variety of topics including general safety, the value of 9-1-1, dealing with different types of emergencies, potential hazards in the home, and some brief first aid.
Staff programs
Emergency preparedness and home - school safety presentation
Are you and your family prepared to be self-sufficient for up to 72 hours?This presentation is aimed at teachers (perfect for a staff meeting) where we will discuss what emergency preparedness is and how you and your family can get ready.
AED – Automated External Defibrillator training
How and when to use Automated External Defibrillator 'AED' and what to expect when calling 911. This presentation is aimed at teachers (perfect for staff meeting).
Questions?
Community Safety Education
780-464-8468
safety.educators@strathcona.ca
---
RCMP at school
Police Pals - Grades pre K to 4
Students will learn about police officers and their role in the community. An RCMP officer will touch on seasonal safety tips, police uniforms and equipment including a police vehicle demonstration.
Read In Week - Grades pre K to 3
RCMP and a special seasonal guest will attend your classroom to read a story that promotes student engagement. This allows students to meet a local RCMP officer and share the joy of reading. This presentation takes approximately 30 minutes.
Safe Halloween - Grades pre K to 3
Students are reminded how to be safe on Halloween. An RCMP member will attend for a fun and interactive experience. We can tailor this program anywhere from 15 to 30 minutes.
Sports Challenge
Have your school sports team play against the RCMP and Enforcement Services members in a friendly and exciting sports game.
If you wish to have an RCMP member attend your event, please contact Community Policing. We would love to hear from you!
Questions?
Strathcona County RCMP Community Policing
780-449-0185
---
School garden program
School gardens are a place where students can learn about growing and eating healthy food. Through hands-on learning, teachers help students connect with the plant life cycle, while learning about seeds, soil, sun, water, bugs and weeds.
Each participating school receives two raised garden beds, soil and seeds to get started (with opportunity for expansion over time). In 2022, the program is entering its ninth year with 24 schools participating, from elementary to high school.
School gardens inspire creativity and wonder. Kindergarteners learn that fresh- picked spinach is sweet and tasty and that good nutrition helps grow muscles, like Popeye. High school students incorporate growing and harvesting vegetables and herbs into their culinary arts program. In the fall, harvest soups made with root vegetables are ways teachers and students celebrate growing food.
Are you wondering how to start or expand a school garden program at your school? Visit strathcona.ca/schoolgardens for more detail.
Questions?
Transportation and Agriculture Services
780-417-7100
communitygarden@strathcona.ca
---
Strathcona County Museum
Come learn the stories of Strathcona County. Students will discover the County's past and present through interactive activities, artifacts, photographs, games, and oral histories. Our programs explore the County's events, land, and people and allow students to learn where they fit within our local history.
Our programs include:
School programs Grade 1 – 6 (field trips or in-class)
Guided Tours
Online Teacher & Student Resources
Summer Camps
Seasonal Events
We also offer a wide variety of adult programming throughout the year. From wine tasting to lectures, there's always lots to see and do at Strathma.
Questions?
780-467-8189
strathma.ca/for-teachers
---