Strathcona County Tobogganing
This family friendly activity is best enjoyed in the winter months. When winter shows up, check out these great hills to take a ride down. Have fun, keep warm and stay safe!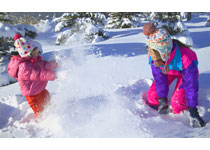 Enjoy safe sledding  
Cottonwood Park
Cottonwood Avenue south of Pine Street
Estates of Sherwood Park
North of Estates Drive
Florian Park
Regency Drive
Greengrove Park
199 Georgian Way north of Glen Allan Recreation Complex
McGhan Park
Meadowview Drive
Strathcona Athletic Park
1100 Clover Bar Road (access off Clover Bar Road)
Toboggan Hills near ponds
Broadmoor Lake Park
2025 Oak Street north of Recreation, Parks and Culture office
Clarkdale Lake
Clarkdale Drive west of Orchid Crescent 
Woodbridge Lake Park
Woodbridge Way north of Parker Drive (south of Woodbridge Lake)
Sledding Safety Tips
Sled on designated hills
Stay away from roads, rivers, railways and parking lots
Wear a helmet to reduce the risk of head injury
Prevent strangulation by wearing neck warmers instead of scarves and avoiding outer clothing with drawstrings
Only sled in the daylight or on well lit hills
Go down the hill sitting up or kneeling on the sled. Never slide down headfirst or standing up
Be sure your path is clear of obstacles and people all the way down the hill.
Stay in control of your sled. Avoid inner tubes and snow discs that are difficult to control
If you fall off or stop unexpectedly, quickly move out of the way of other sledders.
Walk back up the side of the hill, away from other sledders
If there is an emergency - call 911.

Additional information
780-467-2211
recreation@strathcona.ca