Preschool programs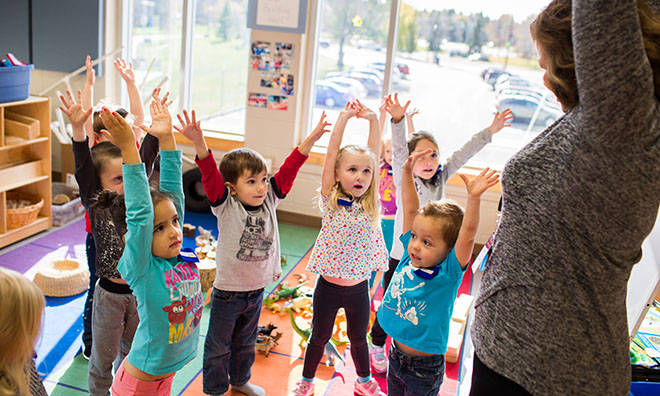 Program Registration - Service Modifications
Ready?
Strathcona County's new program registration system, Recreation Online, will replace Click-it on Wednesday, February 19. Access to Click-it will be turned off on Friday, January 31.
If you had an active Click-it account (registered for a program after September 2018) your new Recreation Online account will be set up using the email address from your Click-it account. If you did not have an active Click-it account, you will need to create a new account in Recreation Online once it is live.
Set…
On February 1, we will begin installing the new software, Recreation Online, at all Strathcona County recreation facilities. Please note the following program registration service modifications during this time:
February 7 to 18
Go!
February 19
Recreation Online, our new program registration system replacing Click-it, will officially launch.
Online program registration will be available.
You can update your account or setup a new one.
Questions?
780-467-2211
recreation@strathcona.ca
Whether it's your child's first time in a preschool program or it's time to start getting ready for kindergarten, your child is sure to have a fun-filled and educational experience in our preschool program. Programs take place both indoors and outdoors, and are filled with investigation and exploration. Through intentional teaching practices, purposefully-designed learning environments and enriched activities, instructors will help ensure your child's learning experience is fulfilling and enjoyable.

Our Philosophy - Our preschool programs reflect the understanding of the importance of play in a child's healthy development. Through intentional teaching, our play-based recreation programs offer children opportunities to expand their skills and knowledge in a fun and safe environment.


We use an intentional-learning approach to planning our programs. Otherwise known as an emergent curriculum, learning plans are based on the children's interests. These interests are extended through the interactions and activities planned by the instructors. Engaging in children's interests provides opportunities to focus on 'topics' which are important to the children.

We offer several different types of programs for multiple ages. Drop-in programs, parented or un-parented, run from September to June. Registered programs, parented and unparented or kindergarten readiness, run for 8 to 11 weeks during fall, winter and spring sessions. Registration for kindergarten readiness is available for 11 weeks or all 33 weeks September through June. We also offer week-long summer camps, half and full day options available for children ages 3 to 9 years old.
To find the full schedule and details of all of our preschool and pre-k programs, check out the latest version of the Recreation Guide.

Drop-in Programs

Preschool Playtime - Drop-in - 6 months to 6 years old (Kinsmen Leisure Centre) or 6 months to 8 years old (Ardrossan) – Drop in and play with your little one in our fantastic play spaces. Climb aboard our pirate ship and build a blue block house in the Preschool Playground at the Kinsmen Leisure Centre, or try the amazing airways and shop at the market in the Love to Play room at the Ardrossan Recreation Complex. Both spaces are located on the second floor of each facility.

Preschool Playtime - Drop-off - 2 to 6 years old – is offered in the Arts and Crafts/Mini Gym room at the Sherwood Park Arena. Run errands, workout, or just have some 'me' time while your child enjoys participating in activities led by our friendly preschool instructors. The arena's main floor access makes for easy and convenient drop-off.

Full schedules and admission fees can be found in the preschool section of the Recreation Guide in the drop-in schedule or online drop-in recreation calendar. Drop-in activities can also be found year-round at all of our Indoor Playgrounds.

Registered Programs

Parented -1 month to 3 years old - For parents or caregivers that want to spend time with their child in a registered program that is led by an instructor.

Un-Parented - 2.5 to 3.5 or 3 to 5 years old - Your child will discover and learn in our interest-based play curriculum programs. Our focus is to facilitate the children's play and provide learning opportunities while getting comfortable with being away from home. Our preschool rooms are equipped with exciting play centres for your child to experience. Choose from three different locations, once or twice a week options available, 2 or 3 hour classes. Registered programs have access to facility amenities such as the Preschool Playground, Edutainment Centre, Love to Play room or mini-gym spaces. Children will also have outdoor playtime.

Kindergarten Readiness (Pre-K) - 4 to 5 years old - This program is a preschool program for children who are four years old and will be attending kindergarten the following year. We offer half-day, twice a week (morning or afternoon) or full day programs. There are two urban (Sherwood Park) and two rural locations to choose from. Kindergarten readiness focuses on social skills and building confidence while away from home. We provide foundational learning opportunities in language and literacy, pre-math, physical movement skills, and social and emotional development. Our preschool spaces are equipped with engaging play centres to ensure that your child is exposed to unique learning activities. Kindergarten Readiness, or Pre-K programs, have access to facility amenities such as the Preschool Playground, Edutainment Centre, Love to Play room or mini-gym spaces. Children will also have outdoor playtime.

To find the full schedule and details of all of our preschool and pre-k programs, check out the latest version of the Recreation Guide.


Preschool is based out of two rural and three Sherwood Park locations, each with unique features. Preschool rooms are equipped with numerous learning centres: art, blocks, dramatic play, sand and water, nature and science, math and manipulatives, and literacy which are vital to the hands-on experiences you can find in our preschool programs. All our locations have indoor gyms and outdoor spaces for your active preschooler.

For facility locations see the Strathcona County recreation facilities map.
---
Preschool programs FAQ
Our interest-based play curriculum will help guide your preschoolers' experiences in our programs. A rich learning environment is developed in the classroom as children and teachers engage in meaningful conversations, stories, singing, creative activities and play that engage the whole child. Each day is specifically balanced to provide teacher and child-centred experiences which lead to group and individual hands on exploration. Children will find success as they develop physically, intellectually, socially, and emotionally.

Preschool instructors have either a four year degree in Elementary Education or an Early Childhood Level 2/3 Accreditation. Instructors are certified in CPR, Standard First Aid, (NCCP) National Coaching Certification Program-Fundamental Movement Skills and High Five Principles of Healthy Child Development.

Preschool classes are offered in a number of urban and rural facilities. Millennium Place, Kinsmen Leisure Centre, Sherwood Park Arena, Ardrossan Recreation Complex and the Strathcona Olympiette Centre are all operated by Strathcona County and provide a variety of unparented and parented program choices.

For your child's best experience we suggest they are fully toilet trained before starting unparented programs. For extra reassurance, parents can send their little one wearing pull-ups. Please note, parents will be contacted by telephone to promptly attend to any changing needs.

Please send children with a small, nut free snack and water bottle for half day programs. For all day programs, children need a small nut free snack, water bottle and lunch (not including Building Blocks).

Parents are not required to volunteer, however; if parents would like to visit, they are always welcome.

Comfortable clothing that is washable and shoes for running in. Please remember when choosing clothes for your child to wear as they will be painting, gluing, and participating in gym time or outdoor play. Your instructor will advise you prior to outdoor activities taking place.
Don't forget to include a change of clothing in case of a spill or accident.


On the first day, instructors will have a name tag, a place for your child's snack bag, and a hook for coats and knapsacks ready for you. Please sign your child in when you arrive, and don't forget to sign out at pick-up time. Your child will be invited to participate in activities during a free play time. This time is meant to help children to get comfortable with their surroundings. The preschool instructor will be available to answer any questions and support any children who are having a little trouble saying good-bye.

On the first day of your program parents will be asked to fill out an information form for their child, this can also be done ahead of time:
Information, Health & Assumption of Risk Form and Severe Allergy Form. Leave the completed form(s) with your child's instructor.
---
Strathcona County preschool programs are proud to partner with the University of Alberta in an innovative preschool research program funded by a Canadian Institute of Health Research grant. Learn about the research results in the Love to Play Community Report.
---
Register for a program
---
Download our mobile app for parks, events, early childhood and drop-in recreation schedules.
County Connect
Ask it, report it or suggest it using County Connect