Textiles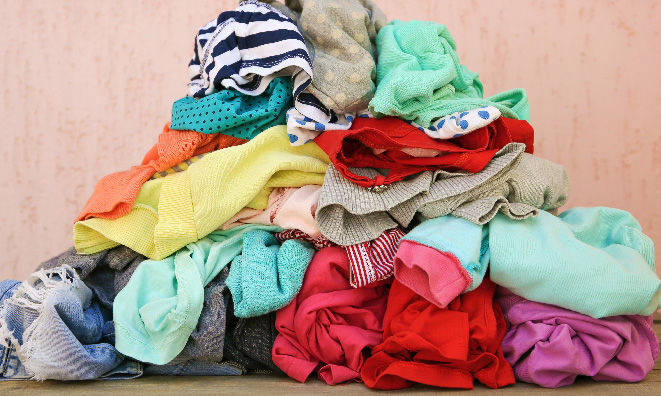 Recycle your textiles.
Textiles, such as clothing, linens, towels and other fabric goods, are a rapidly growing part of our waste stream. In a 2019 waste audit, textiles made up 8.9% of the material in the black carts, or approximately 100 lbs per household per year. Many textiles were thrown away while still in good condition, some still had tags.
Factors such as consumerism, fast fashion, decreasing clothing costs and rapidly changing styles and trends all contribute to increasing amounts of textiles ending up in the landfill. We buy more, wear it less often and then dispose of it before it is worn out.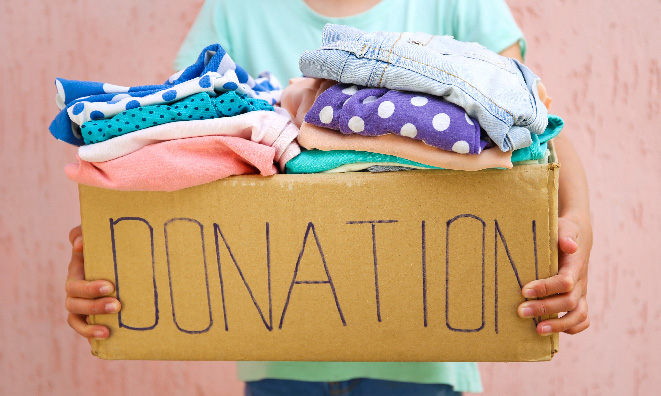 Why donate?
Recycling your unwanted textiles reduces waste, benefits the environment and local community and leaves more room in your black cart.
Reusing a single t-shirt can save up to 2,700 litres of water compared to producing the same shirt from new materials. Reusing textiles is also a step in reducing plastic waste since many synthetic fibres, such as polyester, are formed from plastic.
The local community also benefits from donated textiles as local non-profit thrift stores re-invest the money they receive into the community. These stores provide jobs and also support many community initiatives.
Where to donate
To encourage more textiles to be donated instead of discarded Strathcona County has partnered with the three local not-for-profit thrift stores. You can read their stories below.
Not-for-profit thrift stores
The Salvation Army was founded by General William Booth over 100 years ago in England. He wanted to create an organization that met the needs for jobs and affordable merchandise while preserving the land. Today his legacy lives on through the work of The Salvation Army Thrift Store.

The Salvation Army Thrift Store's vision clearly shares that by operating successful Thrift Stores and integrating with the mission and work of The Salvation Army as a whole, we exist to be a functioning and thriving modern day model of William Booth's conceived "Household Salvage Brigade" through which the marginalized and excluded of society will be refreshed and regenerated by way of meeting their practical needs.

The organization provides vouchers through Salvation Army services and programs for community members in need of access to clothing, furniture and household goods that they can choose to help make their life easier. They also provide emergency care to those that have been through a crisis such as a fire, or home displacement, individuals and families new to Canada that may need a helping hand.

In Sherwood Park, these include the Family Services program, counselling, family support, and programs for youth including summer camp. Last year the Sherwood Park store was able to contribute to supporting 50 kids to go to camp at Pine Lake.

"Our red shield is a worldwide symbol of care and giving to those in need," says Karin Adshead, Store Manager at the Sherwood Park Store, "and at this and across all Salvation Army Thrift Store's we believe that from our hearts. Our staff is caring, compassionate and dedicated to making a difference to those guests and donors that come through our doors."

Adshead continues, "We get a wide range of people shopping here. There's a growing 'shift to thrift' movement where people are moving away buying new and towards thrifted clothing." Adshead has even helped community groups organize fashion shows to showcase the wide variety and quality of items found in the store.

The Salvation Army Thrift Store through in-store Donor Welcome Centres take donations of gently used clothing, bedding, household goods, electronics and furniture items. With a commitment to stewardship of the Earth, an outstanding 82,460,872 lbs was diverted from local landfills last year from the Salvation Army Thrift Store's 106 locations across Canada.

You can donate to the Salvation Army Thrift Store at 10 Main Boulevard, Unit B., Sherwood Park, seven days a week. Find out more at www.thriftstore.ca.

Goodwill Industries of Alberta opened its first thrift store in 1963 and has been active serving Albertans for over 60 years. In 2005 they opened up a donation centre in Sherwood Park, and that was followed by a full thrift-store in 2015 (including a fully integrated career development and job search centre.

"Our mission is to make a difference together with dignity and joy," says Kirsten Harrison, Goodwill's Employment Coordinator for Goodwill's Strathcona operation "We believe that everyone, regardless of 'ability', should have the opportunity for meaningful employment. The donations we receive at our Sherwood Park store directly support career development and job search programs and services for Strathcona residents with disabilities." Harrison is a long-time resident of the community with years of experience working with people with disabilities.

Harrison oversees the Sherwood Park Goodwill career development centre which offers local residents with disabilities workshops on discovering their career interests and skills, resume building, interview practice, job searching and much more.

Since 2017, Goodwill has also focused intensely on sustainability. For example, there are currently no waste bins at their stores, donation centres or career centres. Everything not sold is sent to their 100,000 square foot centre of excellence for sustainability (the Goodwill Impact Centre in Edmonton). There it is converted into products that can be resold in their stores, recycled, upcycled and very little of it makes it to the landfill. In fact, Goodwill in the capital city region is nearing zero waste, a rare achievement for any operation in Canada.

"Our thrift store fuels our passion of making such a difference in the lives of Albertans with disabilities," says Monaghan. "Therefore we want to honour the donations we receive and make sure that we're getting the most we can out of them. When residents donate to Goodwill we want them to know they are investing into an award winning social enterprise that excels in employment, career development, job creation via an organization utilizing best practices in environmental stewardship."

Textiles not suitable for sale are turned into cleaning cloths that are sold in several local stores (Goodwill, car washes, convenience stores and grocery stores), fancy teacups are turned into candles, and even single shoes are collected and shipped to the US to be recycled into insulation.

When you donate to Goodwill, you are not only supporting local residents with disabilities, but you are also helping the planet.
You can donate to Goodwill Industries of Alberta at 130 Athabascan Avenue, in Sherwood Park. Find out more at www.goodwill.ab.ca.

When you think of items to donate to a thrift store you probably think of second hand clothes, or housewares. Over the years though, the County Clothes-Line store has received some unique donations, including an antique picture of RCAF officer Frederick William Lerl who died in WWII.

"We didn't put that one out on the floor," says Freda Badry, Executive Director of the County Clothes-Line Foundation. "We donated it to the museum in Ryley, Alberta where Lerl was born. Beyond the monetary value, we wanted to return this treasure to the community. In a small way we were able to help him go home."

Giving away the picture was an important gesture, as all proceeds from sales at the County Clothes-Line store go directly back to fund programs in the local community.

County Clothes-Line has been operating in Strathcona County since 1984. The first year the store employed two staff and 20 volunteers, and gave away $2,000 to social services, and $3,000 in innovative funding.

Today, the County Clothes-Line Foundation employs 17 staff, 35 volunteers, serves around 180 customers a day and recycles, reuses, or repurposes over one million pounds of donations annually. To date the Foundation has given out $1.8 million in grants, as well as $245,000 in emergency supports and funds six annual apprenticeship scholarships.

County Clothes-Line strongly supports education and culture, local social agencies, and the concepts of reduce, reuse, recycle and repurpose. In 2016 the Foundation established the Community Cares Fund – Poverty Reduction Initiative.

"So many people get caught between the cracks," says Badry. "This fund provides assistance for Strathcona County residents requiring financial support in exceptional cases where a financial need is demonstrated and is not covered by other funding."

When asked what she wishes the community knew about County Clothes-Line foundation Badry doesn't hesitate. "We are a community first organization. Our mission is to empower change by supporting the local community through grants and other initiatives, and your donations are how we make that happen."

You can drop off donations at the County Clothes-Line at 201 Athabascan Avenue in Sherwood Park. Find out more at countyclothes-line.com.
Each store accepts a different range of items for donation, but common acceptable items include:
All clothing that is clean and in good repair
Belts, swimwear, hats and other accessories
Shoes, boots and purses that are in good shape
Sheets, towels, blankets and tablecloths
Curtains and drapes in good condition
Seasonal clothing, such as Christmas or Halloween
Non-textiles: Housewares, small furniture, jewellery and toys
Check out their individual websites to see what other things they accept, and how the money they receive is being re-invested into the community.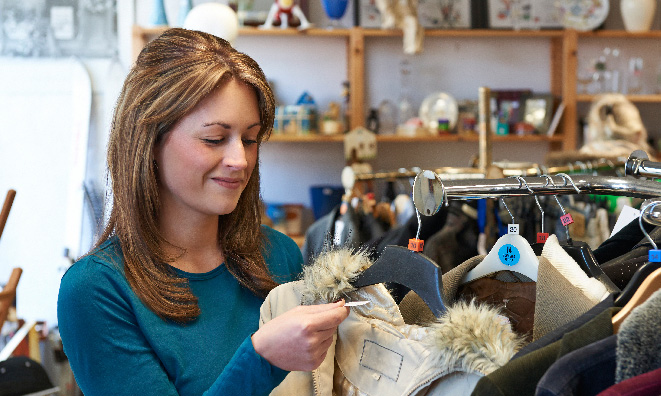 Try second-hand first.
Thrift stores are also great places to find deals on high-quality second hand clothes and other household goods. Clothes are often donated because the buyer no longer likes it, or it no longer fits but is still in perfect shape. There are brand name clothes in the latest styles and also classic pieces, all at low prices. Thrift stores are also great places to find unique pieces that you can't find in stores.
Find pieces you love while knowing your money is making a difference in the community.
Less waste, more style.
Utilities
Phone: 780-449-5514
greenroutine@strathcona.ca