Emerald Hills Leisure Centre is closed from June 28 - August 5, 2022 to fix a leak that has formed in the pool gutters. Summer swimming lessons and water walking are the most impacted activities, however other facilities are available during the closure to reduce activity interruptions.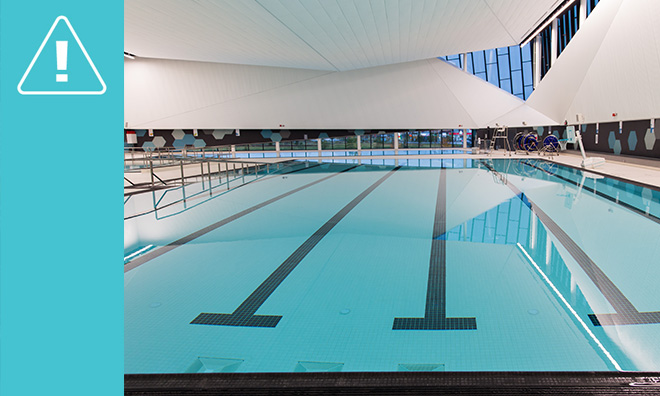 Strathcona County is being proactive in minimalizing the impact to the public by combining construction timelines and increasing activity capacities in other recreation facilities.
Closure details
The primary reason for the closure is that leaks have developed in the pool gutters. The leaks were discovered after the pools were re-filled following COVID-19 shutdowns. During the closure, a new system will be installed to address leaks in the kids' pool. This work requires that all pools within the Emerald Hills Leisure Centre are drained.
The timing of the closure during the summer also aligns with continued construction on the second floor, including installation of an elevator. We will also take advantage of the closure to complete shower improvements in the female changeroom, and a certified technician will be brought in to conduct maintenance on the movable floor in the teach pool.
---
Impacted activities and alternatives
Swimming lessons and water walking are the most impacted due to the loss of the teach pools. Swimming lessons will be expanded at the Kinsmen Leisure Centre to best accommodate demand during the closure.
Water walking
Warm water walking lanes will not be available as the 4-lane multi-depth pool will be closed. During the Emerald Hills Leisure Centre closure, water walkers are invited to walk during lap swim times at the Kinsmen Leisure Centre.
Lap swimming
Lap swim opportunities remain available at both Millennium Place and Kinsmen Leisure Centre.
Swimming lessons
Demand for swimming lessons will be impacted by the closure. We go into more detail on impacts to swimming lessons further down on the page. Our aquatics supervisor team will take advantage of the closure to escalate rebuilding the instructor team so we are ready to deliver the new Life Saving Swim for Life programs in fall 2022.
Fitness programs
During the Emerald Hills Leisure Centre closure, dry land alternatives will be available and fitness classes will be added at Kinsmen Leisure Centre, including a lunch hour class on Tuesdays and Wednesday / Friday mornings (pilot).
Recreational swimming
Two spray parks and six spray decks will be available in addition to recreational swim times at Millennium Place and Kinsmen Leisure Centre.
---
Swimming lessons
We know there is frustration related to the availability of swim lessons, which will be heightened with the temporary closure of Emerald Hills Leisure Centre.
A combination of factors have negatively impacted our swimming lesson availability:
Industry-wide shortage of instructor and lifeguard teams. We are in the process of rebuilding our instructor and lifeguard teams. As we emerge from COVID-19 closure impacts, we lost 60% of our staff and there is a lack of certified swim instructors and lifeguards across Alberta.

We are currently at 55 instructors, 40 less than our pre-COVID-19 staffing levels.
With full staffing levels, we are normally able to offer up to 5,500 swim spots. Impacts to staffing has meant we were only able to offer approximately 3,700 spots during the spring 2022 swimming session.

Country-wide aquatics certification impacts due to COVID-19 facility closures has affected training and certification / re-certification programs.
Red Cross recently announced they will no longer offer swim lessons, and our aquatics team is working on transitioning to the Life Saving Swim for Life Program.
Actions we're taking
We are working to maximize teaching spaces and increase the capacity of our current registration system to speed up our processes.
Maximizing teaching spaces
Rebuilding our daytime school programs to alleviate the pressure for higher priority times (serving up to 800 students this session) 
Offering a variety of lesson formats to create more opportunities/flexibility to participate based on the times available at each pool 
Added classes in direct response to waitlist demand where feasible 
Increased the number of Red Cross level 1-3 learn-to-swim programs we are able to run at the same time
Reduced number of advanced Red Cross learn to swim programs (levels 7-10), freeing up pool space for additional higher demand levels; but lower levels still require warmer, shallow water areas 
Moved one-on-fun lessons out of prime timeslots to allow for more learn to swim programs during high demand/desired times 
Increasing registration system capacity
Delayed aquatic registration by one week from other recreation and culture programs to lessen stress on the registration system. 
We work closely with our Information and Technology department to carefully monitor traffic and look for ways to enhance performance. As a result, we have increased capacity to access the servers from 600 to 1600 simultaneous users. 
Changed from immediate to delayed credit card processing to speed up transaction time 
We continually monitor the aquatic registrations including regional challenges, supply/demand, community demographics and system performance for each registration cycle and make adjustments wherever possible.