Aquatics important dates and notices
Last modified: March 15, 2023, 5:56 p.m.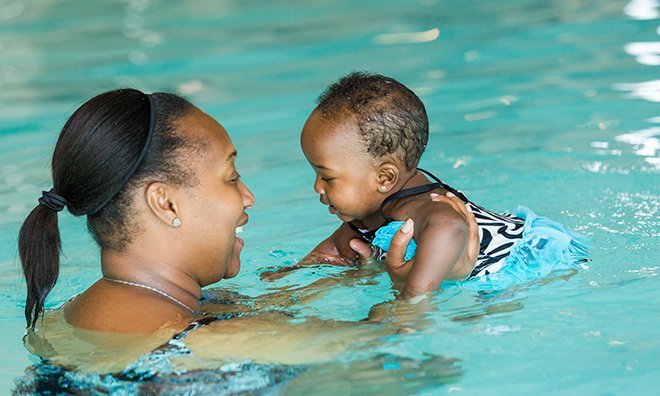 Welcome to Strathcona County's swimming and water safety programs! Through our partnership with the Lifesaving Society of Canada, all of our professional aquatic team members hold a complement of certifications to ensure you have the best experience every time you register.
---
Swimming for the April to June 2023 spring season occurs at Kinsmen Leisure Centre (KLC) and Emerald Hills Leisure Centre (EHLC): 
April 3 – April 27: 7 or 8 classes, twice a week at at EHLC 
April 18 – June 25: 10 week session at KLC
May 1 – June 26: 8 week session at EHLC
---
Programs offered
Strathcona County swimming programs are available in seasonal sessions throughout the year. All currently available swimming program categories are listed below.
---
---
Strathcona County schools
Did you know we offer curriculum-based aquatics programs for schools?
---
Know before you go
There are a few things you may want to know before taking part in Strathcona County swimming programs.
Did you know? After more than 75 years in operation, the Canadian Red Cross is winding down its swimming and water safety program. Effective September 2022 Strathcona County transitioned from the Red Cross Swim Kids program to the Lifesaving Society's Swim For Life learn to swim and lifesaving programs.
Know before you go: swimming
A bathing suit and towel for each participant 
A swim diaper for any participants who wear diapers or $2.00 to purchase one from the front desk 
A change of face mask for participants if you would like to wear one onto the pool deck
Any progress cards for your instructor to see previous comments, not mandatory! 
A personal combination lock if you would like to lock up your belongings or quarters or a Loonie to purchase a locker

All of our lesson facilities offer male, female, universal and specialty changerooms 
The male and female changerooms offer communal changing and showering space, as well as some private changing and washroom stalls, children over the age of 5 who use these changerooms must change in the room that best matches their gender identity 
The universal changeroom offers multiple private changing stalls and washrooms as well as a communal shower and locker areas. This changeroom is for any and all individuals! 
The specialty changeroom offers a specifically designed space for individuals with complex mobility needs, this space includes a complimentary sling and pulley system for guests who use a wheelchair as well as a large open space to facilitate easy changing. This space is opened on a per need basis, please stop by the front desk for access!

When you enter the pool deck area, please find the sign with the number or name of the class you have registered in. Your instructor will meet you there within a few minutes of the scheduled start time of your class. All of our classes run back-to-back so please be patient as they safely exit the water with their pervious class and make their way to your meeting spot.  

For leadership classes such a Bronzes, WSI, National Lifeguard or Aquatic Emergency Care please ask the front desk upon arrival where your class will be meeting that day 

If you are still unsure of where to go or how to find your class, please find a team member in a black shirt, come to the front desk, or approach any lifeguard or instructor, they will be happy to find you the help you need 
Common questions: swimming
We understand there is frustration about the availability of swimming lessons in Strathcona County.

A regional lifeguard and instructor shortage is currently impacting our ability to maximize teaching spaces within our facilities, and we are working to recruit and recertify instructors as quickly as we can. We are also taking measures such as rebuilding daytime school swim programs and adjusting private lesson times to allow for more group programs.

While there is a small percentage of people registering for County swim lessons from outside of our community, this impact is minimal and consistent with the number of County residents registering for programs in neighbouring municipalities.

We encourage you to visit strathcona.ca/SwimAvailability to learn more about current impacts and actions we are taking.

After Star Patrol there are a variety of program options for individuals who wish to keep swimming. If you are interested in becoming a lifeguard or swimming instructor, check out our certification and leadership programs or Tidal Waves Lifeguard Club. If fitness and fun is your goal maybe take a peek at Ocean Sports or adult & teen programs! And of course public lap swim is offered all year long. 

No problem! It happens to the best of us! To see any registrations for yourself or members of your family account, just log in to your RecOnline profile and navigate to the My Courses page of your profile. Select the name of that family member who should be registered and hit the "Search" button, you will be able to see any courses that individual is registered for.  

If you have registered for a single private lesson, all of that information will be located on the Bookings page instead! 

If you don't have an online account or you aren't seeing the information you expect please give us a call at 780-464-2112.

If you miss a class do not be discouraged! All of our instructors are trained to provide multiple learning and evaluation options for all skills! Just come to the class next week and continue working on improving your skills! 

If you miss the first class, you may get a phone call from us confirming that you still wish to be registered and haven't forgotten about us. 

If you miss the last class, your progress cards will be left at the front desk of the facility where you attended lessons for you to pick up at your convenience. 

If you would like to withdraw from a course that you have registered in, please call our front desk at 780-464-2112 for assistance.

The Swimming and Water Safety team monitors waitlists up until the 3rd week in a 10 week session! If a space opens between the time you waitlisted and the 3rd day of a session you will get an email from swimmingandwatersafety@strathcona.ca sent to the address that you have listed on your account with us (occasionally these emails have been know to go to Junk mailboxes). Please ensure that your account email is accurate and one that you check regularly.

Once you receive this email you will have 48hrs to respond to the email or call the front desk (780-464-2112) to confirm your space. If you do not contact us within the 48hr window, the space will be automatically offered to the next individual on the waitlist or reopened to the public. 

If you would like to to see all of the waitlists that you or a member of your family are currently on, log in to your RecOnline account, navigate to the "my courses" tab and select "waitlisted courses" and the member of your family you would like to look up from the drop down menus, then click "search". If you do not see a waitlist that you expect to see, select "confirmed courses" on the drop down and "search", if the course appears in confirmed courses, a spot has become available and it is being held for you, please check your email or call 780-464-2112 to confirm your registration.

If you registered on the first morning registrations were available, please note confirmation emails are not emailed out until 8:30 a.m. on the opening day of registration. This helps us reduce server load while many people are trying to register at once. If you still do not have a confirmation email by 10 a.m. (or within 20 minutes of processing your registration on any other day), we suggest checking your junk email box for an email from recreation@strathcona.ca.

If you still cannot find a confirmation email please contact us at 780-464-2112 or swimming@strathcona.ca.
Last updated: Wednesday, March 15, 2023
Page ID: 50034