Swimming programs
Registered programs update - January 8
All indoor, in person, registered programs continue to be on hold due to the provincial restrictions currently in place. All affected registered participants will be contacted directly and receive an automatic pro-rated refund.
Programs that are still running include: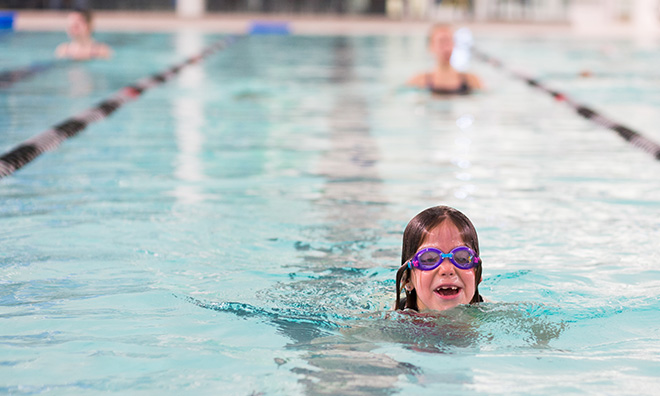 Welcome to Strathcona County's swimming and water safety programs! Working with our partners at the Canadian Red Cross and Lifesaving Society of Canada, all of our professional aquatic team members hold a complement of certifications to ensure you have the best experience every time you register.
The safety of our swimmers and staff is our top priority. All swimming programs have been created to meet Alberta Health Services guidelines to help prevent the spread of COVID-19 in our community. 
Programs offered - ON HOLD DUE TO PROVINCIAL RESTRICTIONS
Follow the links below to find the full class schedule and register with Recreation Online. Learn more about setting up your Recreation Online account. Need assistance? Call 780-464-2112. 
Program details
Preschool Basics, 5+ Basics and Advanced lessons all require a caregiver (a responsible individual at least 14 years of age or older, from the same household or cohort) to accompany the swimmer in the water for safety and to assist with physical distancing.

Instructors will  guide and support caregivers and students as they learn swimming strokes related to the level  their current level and provide evaluations. While instructors may be in the water they will consistently maintain 2 meters (6ft) distance from students and caregivers
 
Red Cross Swim Kids 4 and up  do not require a caregiver to accompany the swimmer in the water. Instructors will teach from the pool deck and support students verbally.
 
If an instructor needs to demonstrate a skill, all swimmers will be physically distanced from each other and the instructor. Students will have a 'set' of equipment assigned to them for the duration of their lesson to ensure that no equipment is shared between participants.
Know before you go
Each guest entering the facility must check in with the front desk prior to entering the changeroom. You will be asked a series of screening questions and provided with a tag to indicate which locker you will use, this tag lets our staff know which lockers need to be sanitized following each use.

Stay home if you are sick or experiencing any symptoms of COVID-19.

Please arrive a maximum of 10 minutes before your scheduled class. Only one caregiver is permitted to accompany each swimmer into the building for their lessons.
 
We recommend arriving with your bathing suit on underneath your clothes to decrease congestion in changing areas.
 
Masks are required (for individuals 10 years of age and older) in all common areas including the lobby, hallways and changerooms. Program participants (including parents and guardians who will be in the water) do not need a mask while on the pool deck and are not allowed to wear their mask in the water. Masks can be stored in lockers. All spectators on deck must wear face mask.
 
A full cleansing shower is required for ALL individuals that will be entering the water.
 
Following your lesson please proceed to the changerooms, maintain proper physical distancing.
 
Take a quick rinse, put your mask on, change and head home without delay (personal grooming strongly discouraged) so staff can begin sanitizing the area as soon as possible.
Frequently asked questions
A parent or responsible caregiver (14 years of age or older) must accompany each swimmer in the water for all Preschool Basics, 5+ Basics, and Advanced lessons. If lessons run at different times, the same parent or caregiver may accompany more than one swimmer. Swimmers in levels 4 and higher, do not require a parent or caregiver to accompany them in the water.

Yes, one parent or caregiver can be in the water supervising two to three participants in the same class, at the same time, if swimmers are close in ability levels.

Our lifeguarding courses will be running as a cohort, this means that students and instructors may come within 2 meters (6ft) of each other without face coverings (when unavoidable). All efforts will be made to maintain physical distancing and face coverings when within 2 meters (6ft) but some rescues and procedures done in the pool cannot be done wearing a mask and require multiple individuals. We ask that all participants limit contact with any other personal cohorts for the duration of this 10-week program to preserve the integrity of the cohort lesson.

Log into your Rec Online account and take a peek at what level they were registered in previously. If they have taken and successfully completed Salamander, they should be registered in Advanced. If they have not yet taken or successfully completed Salamander, register in Preschool Basics.

If you do not know what level your little swimmer took previously and it is not visible on your Rec Online account please call 780-464-2112.

Students will have a 'set' of equipment assigned to them for the duration of their lesson to ensure that no equipment is shared between participants.

Any porous or equipment that is difficult to sanitize has been removed.

Any equipment that was used will be sanitized thoroughly before it is used by another participant.

Instructors will be equipped with a rescue tube to use in case of an emergency that will allow them to maintain a 2 meter (6ft) distance while assisting the swimmer in need.

Should a first aid emergency arise, all instructors and lifeguards are equipped with pocket masks and non-surgical masks for themselves and the individual they are assisting to ensure effective treatment can be provided while maintaining staff and guest safety.

All staff and program participants must stay home if they are sick or experiencing any symptoms of COVID-19. If a participant or staff member displays any symptoms related to COVID 19 without a known cause (an example of a known cause includes something like ingesting pool water) they will be asked to don a face covering and immediately quarantined until they depart the building through an alternate (non-public) exit. All areas this guest or staff member may have contacted will be thoroughly sanitized and disinfected prior to allowing any other staff or guests to enter that space. Any necessary follow up or potential contact tracing would be undertaken by Alberta Health Services.

All programs will run at a 4 student to 1 instructor ratio (approximately 2 to 3 students less than the typical ratio)

To reduce the number of people on deck at any given time, less classes have been scheduled for each time slot. Only one caregiver is permitted to accompany each swimmer into the building for their lessons.

Since Millennium Place pool is currently under construction until January 2021, all swim clubs and synchronized swimming groups will be operating out of Kinsmen Leisure Centre.

Our Aquatic Programmers have been working with the space available and making adjustments to offer as possible while following all Alberta Health Services guidelines to prevent the spread of COVID-19.

Due to the guidelines in place to help prevent the spread of COVID-19 in our community, we were required to reduce the number of classes we offer as well as the number of swimmers in each class. We are working on a phased approach to re-opening swimming lessons again to our guests and traditionally Starfish and Duck (kids under 2) are our least utilized programs.

We are offering Red Cross Swim Preschool Basics for students 2- 5 years of age who would have previously enrolled in our Sea Turtle, Sea Otter and Salamander programs.

Lessons for children under 2 (Starfish and Duck) will return to Kinsmen Leisure Centre once the Universal Changeroom and Kids Pool construction is complete.

We will be evaluating this session including feedback we receive to make future programming decisions. If you would like to provide your feedback or have a member of our team follow up with you, please submit a request through County Connect.

Strathcona County typically offers leadership programs during the day to accommodate guests who homeschool. Before this session, a daytime leadership class like this would have been labelled "homeschool". Due to the changes in the upcoming school year, the label "homeschool" was left out of the title to be more inclusive.

For more information on future leadership programs, call 780-464-8236.
Register for a program
---
Download our mobile app for parks, events, early childhood and drop-in recreation schedules.
County Connect
Ask it, report it or suggest it using County Connect