Historic research on Bremner House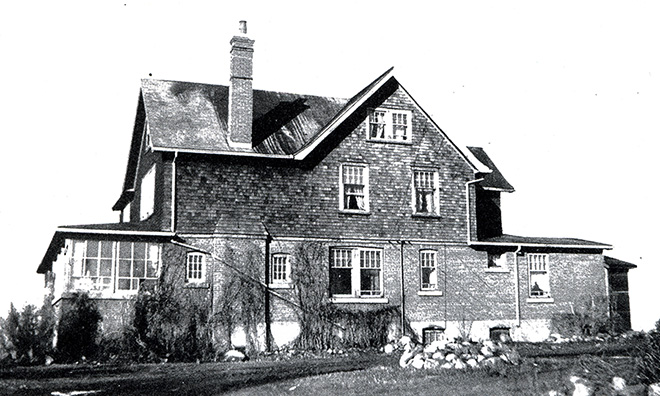 Schroter Family collection, circa 1950
Research on the history of Bremner House
Strathcona County, Alberta, Canada 
Research conducted by J. Ross and Associates in 2011
Published on October 9, 2019
We invite you to explore the research gathered in this website for a rare look back on Strathcona County's history. This is a living document; check back for updates and the most recent information.
---
The Bremner House Research Project
Research outline: This section of the website features research on Bremner House and its place in Strathcona County history. Strathcona County's purchase of Bremner House and subsequent designation as the County's first municipal historic resource raised the obvious need for in-depth historical research into its builder and subsequent owners. Knowing the home's date of construction, likely appearance in those early days and changes made in the hundred years since would certainly inform efforts to conserve and preserve the building. As well, information about the owners and their daily activities involving home and farm life, business and community would make it possible to one day interpret the house as a historic site in a way that exemplifies the opportunities and challenges faced by settlers in that day. As both Bremners and Schroters were farmers, it was felt that their farm operations needed to be placed within a context of agricultural history. All of these parameters, in the context of current affairs, formed the outline of research conducted by J. Ross and Associates in 2011. This website makes a compilation of the findings readily available for public use.
Acknowledgment: Strathcona County gratefully acknowledges a grant from the Alberta Historical Resources Foundation for this research. 
Research Disclaimer: This material is historical in nature and as such cannot be considered exhaustive. While researchers were diligent and attentive to detail, Strathcona County does not warrant that all the information in this document is completely accurate and/or suitable for any particular purpose. This information is not intended to replace the users' own research of the primary records. Should you notice any possible errors, or have any questions or comments, please call 780-416-6762.
---
Bremner House, the building
53452 Range Road 225, 2.25 miles north of the Yellowhead Highway 16
Bremner House was built by J.C.C. (James Charles Chatterton) Bremner, one of the early homesteaders to farm in what is now Strathcona County, Alberta, Canada. Born in Glasgow in 1867, Charlie emigrated from Scotland in 1885 and staked a claim at Clover Bar, then part of the North-West Territories. Aided by a substantial inheritance, he first built a log shack, then a larger clapboard home, and finally this expansive dwelling, measuring 5,400 square feet. 
Estimated year of build (126.6 KB)
Changes made by private owners (140.7 KB)
---
Early days of settlement
Early days of settlement (283.8 KB)
Following the transfer of Rupert's Land to Canada in 1869, the west was surveyed and opened up for settlement. The first settlers in the area around Bremner House arrived in the early 1880s; initially, many had roots in Britain. Two nearby communities, Bremner and Clover Bar, thrived for a time but were paved over in the 1960s to make way for Highway 16 interchanges. 
Control and governance of the area evolved significantly since Charlie Bremner built his first house. Initially, the North-West Territorial government passed statute labor ordinances, and then set up local improvement districts to organize basic services across a vast tract of western Canada. After 1905, the newly formed Province of Alberta became responsible for the region and, over time, made a shift to municipal districts. Municipal districts Clover Bar and Strathcona merged in 1943, then in 1962 became the County of Strathcona.
Narrative: An historical analysis of change in settler society (151.2 KB)
The farms and other enterprises operated by the Bremner and Schroter families provide intriguing local examples of the boom, bust and rescue stages of settler agriculture described by James Belich in the article "Exploding Wests."
---
History of agriculture in Strathcona County
Built in a rural setting by an early settler and serving for decades as a farm homestead, Bremner House offers a window into the evolving role of agriculture in the surrounding region and beyond.
Agriculture documents
Farming in the 1880s, when the first settlers arrived in what is now Strathcona County, relied heavily on human and horse power. Changing governance, equipment, techniques and global forces all combined to make agriculture a shifting landscape.
Animal care and markets (618.1 KB)
Many early settlers raised a variety of livestock as a hedge against downturn or disease in any one commodity. Both farmers and government experts took steps to improve herd quality in hope of opening doors to export markets.
Advances in agriculture (322.8 KB)
From earliest days, farm men and women formed organizations to improve their buying power, enhance their advocacy and learn new techniques. Youth also became involved through 4-H Clubs and other groups. The stakes became higher in recent decades as farms became larger and less diversified, evolving into agribusinesses.
Charlie Bremner
James Charles Chatterton (Charlie) Bremner emigrated from Scotland in 1885 at the urging of family friend Archie Boag and joined him as one of the early homesteaders in what is now Strathcona County, Alberta, Canada. Archie was a dozen years older than Charlie, but the two had many exploits together. He married Edith Fielders, who had come west from Fredericton, New Brunswick to live with her brother Billy Fielders, another close friend. Aided by a substantial inheritance, Charlie expanded his farm, which he termed "The Mount", while investing in other enterprises. He prospered in the early twentieth century but then was hard hit by plunging stock values, particularly in the infant oil industry. He took his life in March 1928, at age 60. 
The Schroters and their time in Bremner House  
William Schroter and his wife, Nellie, purchased the Bremner house and farm after Charlie Bremner died. William had lived in the area since age four, when his parents John and Dora (Geeza) came west from Ontario to farm. Nellie's family had emigrated here from Scotland when she was about nine. The Schroter family worked together across generations to run their farms, which evolved in synch with the times. 
Schroter family
Schroter family ties (243.2 KB)
John Schroter • William Schroter • Helen (Nellie) Schroter née Hutton • William and Nellie's children • Home life • Community involvement
Areas for further research 
Research by J. Ross and Associates in 2011 uncovered much about Bremner House, its owners and its agricultural context, but more could be discovered by accessing materials left unexplored due to time constraints.
Areas for further research (138.9 KB)
---
Sources
As part of the Bremner House Historical Research Project, oral history interviews were conducted with a number of people who had some connection to and memory of Bremner House, local history and/or details about agriculture in the first half of the twentieth century. A bibliography of sources is also provided. 
Transcripts of interviews
Allan and June Schroter 1 (126.8 KB)
Allan and June Schroter 2 (106.4 KB)
Sten and Kirsten Nielsen (118.8 KB)
Maurine and Randy Schroter (122.3 KB)
Helen (Schroter) and Don Jackson (117.8 KB)
Robert and Lois Schroter (124.7 KB)
---
Transcript Disclaimer: As part of the Bremner House Historical Project, Strathcona County conducted interviews of County residents who were willing to share their recollections of Bremner House and the families that lived there. Many of these people were also able to provide valuable information on the history of the area, as well as the agricultural history of Strathcona County.
Strathcona County presents these oral history interviews as a document reflecting the recollections and opinions of people interviewed. It is important to note that oral history, by its very nature, relies on the memories, perceptions and opinions of individuals. While all reasonable attempts have been made to avoid inaccuracy, Strathcona County cannot warrant that all the information contained in these interviews is completely accurate and/or suitable for any particular purpose. The recollections and opinions contained in this document are not considered an official history of Strathcona County, nor do they represent the position of the Strathcona County.
Unless otherwise indicated, copyright in these oral history interviews is held by Strathcona County. You may download, display, print and reproduce this content for your personal or non-commercial use but only in an unaltered form, with the copyright acknowledged and citing the name of the interviewee, the date of the interview and citing Strathcona County's Bremner House Historical Project. Anyone wishing to make this content accessible through their website is encouraged to link to the required content on this site. Strathcona County reserves the right to revoke these permissions at any time. Commercial use or sale of this material is strictly prohibited.
Photographs: Photographs and other images used in these webpages note the sourced archives and family collections; each is used with permission.
---