Wastewater services
Strathcona County Utilities operates and maintains all underground sewer systems for Sherwood Park and the hamlets of Ardrossan, Josephburg and Collingwood Cove. This includes the infrastructure serviced by low-pressure sewer systems from the property up to and including the lift station and lagoons.
Did you know:
Strathcona County in accordance with the Alberta Capital Region Wastewater Commission now requires a permit for discharge of non-domestic waste? This means that before you dump or discharge large amounts of wastewater down the sewer you need to contact the Alberta Capital Region Wastewater Commission to gain permission.
For more information or to fill out the application visit Alberta Capital Region Wastewater Commission
How does the sewer system work?
The sewer system collects wastewater from residential, commercial and industrial buildings and transports it to the Capital Region Wastewater Treatment Plant. Your sewer service line connects the building sewer to the mains in the street.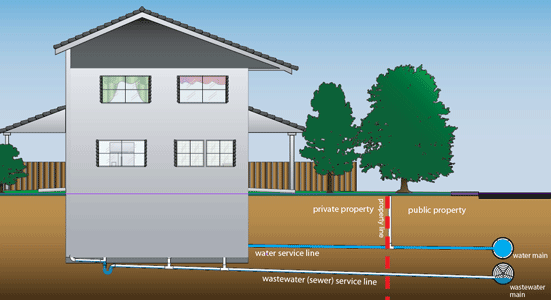 Wastewater terms
Service line (service lateral): The piping that connects your house or building sewer to the wastewater main.
Mainline: The portion of the wastewater system that collects and transports wastewater to the treatment plant. Typically located in or near the street.
Access point: The cleanout or other point of access to the wastewater service line for the purposes of inspection and cleaning.
Front floor cleanout: A cleanout or access point that is located in the floor, typically near the front wall of the house.