Cycling safety
Cycling is a great way to get exercise and is a fun, healthy way to travel. Whether you are cycling, jogging, in-line skating, skateboarding or strolling, it's important to wear the appropriate gear.
Wear a helmet that fits properly and is safety-approved when cycling, in-line skating or skateboarding.
Elbow and wrist protectors and knee pads are recommended for in-line skating and skateboarding.
Wear bright clothing and reflective tape at night when walking, jogging, cycling or inline skating.
If you must wear earphones, keep the volume low enough to hear others approaching.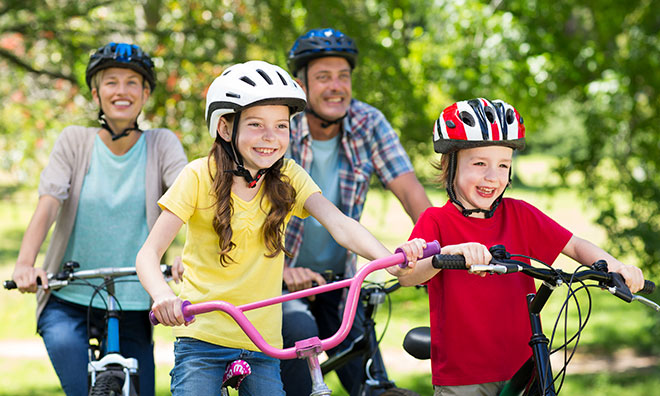 Cycling and the Law in Strathcona County
Cycling in Strathcona County is regulated by Alberta's Traffic Safety Act and Vehicle Equipment Regulation. According to these regulations:
Bicycles must travel single file.
Bicycles must be equipped with a horn or bell, a brake, and if operated at night, a white headlight, a red taillight and a red rear reflector. The lights must be on at night or when visibility is less than 150m.
Cyclists must ride as close as practicable (i.e. safe) to the right curb; or left curb if on a one-way street.
Cyclists under 18 must wear a helmet.