Cycling safety
Cycling is a great way to get exercise and is a fun, healthy way to travel. Whether you are cycling, jogging, in-line skating, skateboarding or strolling, it's important to wear the appropriate gear.
Wear a helmet that fits properly and is safety-approved when cycling, in-line skating or skateboarding.
Elbow and wrist protectors and knee pads are recommended for in-line skating and skateboarding.
Wear bright clothing and reflective tape at night when walking, jogging, cycling or inline skating.
If you must wear earphones, keep the volume low enough to hear others approaching.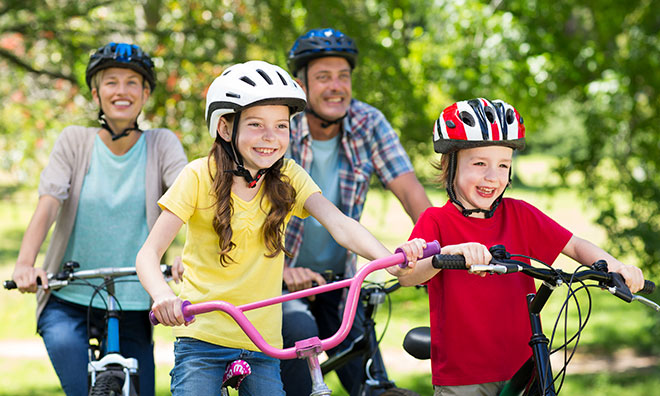 Cycling and the Law in Strathcona County
Cycling in Strathcona County is regulated by Alberta's Traffic Safety Act and Vehicle Equipment Regulation. According to these regulations:
Bicycles must travel single file.
Bicycles must be equipped with a horn or bell, a brake, and if operated at night, a white headlight, a red taillight and a red rear reflector. The lights must be on at night or when visibility is less than 150m.
Cyclists must ride as close as practicable (i.e. safe) to the right curb; or left curb if on a one-way street.
Cyclists under 18 must wear a helmet.
Additional information:
Parents, help your children learn all bicycle safety tips along with these additional tips that help reduce specific bicycle injuries in children:

Make sure children wear a helmet as soon as they begin to learn how to ride a bicycle. It's the law!
Make sure children wear a helmet when they are riding in a child carrier seat or bicycle trailer.
Parents should act as role models by also wearing their helmets.
Do not allow children to place stickers or labels on their helmet - the glue can weaken the helmet and it will not provide proper protection.
Buy the correct size of bicycle for your child. Never buy one that they need to grow into.
Most bicycle injuries that occur to children are due to cyclist error. Teach children proper bicycle safety as well as the rules of the road.
It is not recommended that children under nine years old bicycle alone. Children younger than this do not have the thinking skills necessary to cross the street at intersections, even when walking their bikes.
Children under the age of 10 should not ride their bikes on the road. They do not have the physical and thinking skills to handle a bicycle in traffic. Children over the age of 10 need practice and to learn about the rules of the road before they can ride on the road.

Ride at a speed appropriate for the conditions.
STOP before riding into traffic from a roadway, driveway, sidewalk, alley or parking lot.
Enter trail entrances and roadways with caution.
Obey all signs and signals. Walk your bike across the street in a designated crossing area.
Wear a properly fitted, safety-approved bike helmet. Learn how to properly fit your helmet.
Ensure your bike is in good repair and is the correct size for the rider.
Have a horn or bell on your bicycle to warn others you are going to pass them.
Always use hand signals:

Turn left - extend your arm straight out
Turn right - extend your left arm out and bend your arm up at the elbow
Stop - extend your left arm out and bend your arm down at the elbow

Strathcona County's Parkway Trails are the safest option for children and recreational cyclists. In addition to following the basic safety rules above, cyclists using the trails should:

Obey all signs on the trail.
Use a horn or bell on their bicycle to warn others you are going to pass them.
Dismount and walk their bike across intersections. Riding across intersections is extremely dangerous. It is difficult for a driver, particularly those turning left or right, to see you. Further, crosswalks are for pedestrians. If you are riding on the road, you are considered a motor vehicle and should not be in a crosswalk.

Provincial legislation affords cyclists all the rights of a motor vehicle on Alberta roads. However, cyclists who choose to ride on the road must follow all the same rules of the road as a motor vehicle. With mutual respect and consideration for each other, drivers and cyclists can safely share the road.

Safety tips for cyclists riding on the road:

Ride predictably, in a straight line, and use proper hand signals to indicate turns and lane changes. Travel single file if you are in a group.
Obey all traffic signs and signals and yield to pedestrians.
Be alert and careful at intersections, where most collisions happen.
NEVER ride against traffic.
Keep a safe distance from the curb and parked cars.
If necessary, ride in the middle of the lane to discourage cars from passing you too closely. Do not encourage drivers to do so by hugging the curb.
Stay out of right turn lanes when continuing straight, and make left turns from the proper lane.
Never pass on the right. Vehicles may be slowing for a right-hand turn.
Be visible. Wear brightly-coloured, reflective clothing.

Tips for drivers sharing the road with cyclists:

Give cyclists the same respect as any other slow-moving vehicle. Pass only when it is safe to do so.
Slow down when driving near cyclists.

Resources for commuter and road cyclists

Edmonton Bicycle Commuters' Society offers a number of resources for cyclists, including on-road cycling education.

Visit the City of Edmonton website for information regarding on-road bike routes.