Residential Road Rehabilitation
Strathcona County's Residential Road Rehabilitation program includes upgrades and improvements that maintain the quality and safety of our roadways.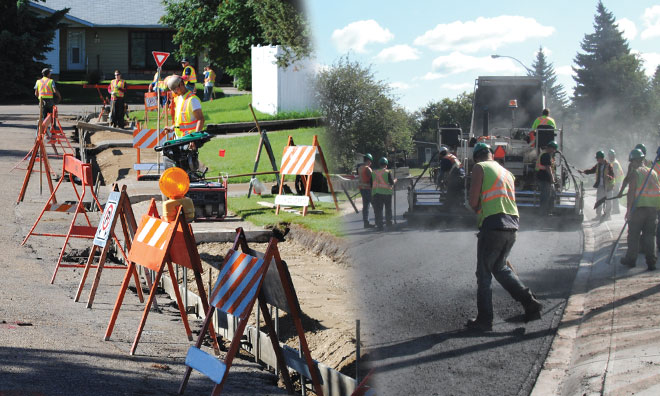 Drop driveway request
To request a drop driveway estimate, please submit an inquiry through County Connect.
What to expect
When construction is scheduled to take place in your neighbourhood, the work will take about a month to complete from start to finish, weather depending. Construction will take place in two phases:
Spot concrete replacement - sidewalks will be inspected and damaged sections will be replaced.
Asphalt road improvements - the road base will be repaired or reconstructed, depending on the condition, and a new asphalt overlay will be applied.
Note: There may be a break of up to two weeks between each phase. This timing is weather dependent.
If your street is scheduled for improvements this year, you will receive a notice letter at your residence before the work starts. The letter will include the name of the contractor hired to do the work on behalf of the County, along with a construction start date.

The CountyWorks map also includes the locations for all scheduled construction projects this year.

Residential streets are inspected on a three-year cycle to assess the condition of the road. These conditions are weighted to develop a Visual Condition Index (VCI), which is used to create and prioritize a list of roads for potential construction.
---
Construction during COVID-19
Due to the impact of COVID-19, County crews and contractors will be required to adapt work protocols to protect the safety of staff, contractors and residents.
These measures include, but are not limited to:  
Maintaining physical distancing on the worksite and during all customer interactions
Wearing non-medical masks, when physical distancing cannot be maintained (e.g., during certain work tasks)
Following strict cleaning protocols
Staying home when sick
Providing services to residents on the telephone and online rather than in person
Reducing face-to-face meetings, where possible, and otherwise holding a meeting virtually, by telephone, outdoors or in an open space
Physical distancing requirements may make worker behaviours look different than expected. At times, workers may appear to be "standing around", when they are actually ensuring physical distancing during certain work tasks.

Additionally, please be aware that if you approach a worker to ask questions, you will be politely reminded to maintain your distance.
Phase 1 - Spot concrete
During this phase, select portions of the sidewalk, as well as the curb and gutter, will be marked and then replaced. Not all sidewalks on your street will be replaced. Project Managers evaluate the condition of the concrete and only replace deficient sections. 
Concrete replacement process:
Removal of existing concrete and sod
Construction of base and forming for new concrete
Pouring new concrete
Replacement of topsoil and sod
The contractor will replace the sod behind the new concrete that has been poured and is responsible for watering the sod until it has taken. Homeowners are also encouraged to water the sod behind the new sidewalk. 
Each year, we rehabilitate eight to nine km of residential roads under this program. Only deficient concrete sections (large cracks with a gap, settlements, trip hazards, etc.) are repaired. Replacing all the concrete on a street would increase costs and reduce the number of streets that we could repair each year.

If the sidewalk in front of your driveway is being constructed, you will not have access to your driveway for approximately 10 days, weather permitting. Access to your driveway will be available once the contractor removes the barricades.

If this is going to be an issue due to a special access requirement, please submit a County Connect request or call our customer service desk at 780-417-7100.

Approximately one week after the concrete crews have completed all of the concrete on the street, a landscaping crew will replace the strip of sod next to the new concrete. After the sod is replaced, please water the sod often until it takes. Phase II – Asphalt Road Improvements typically starts two weeks after Phase I is complete.

When the concrete is complete, you may notice a small gap in between the gutter and the road. This will be filled with Fillcrete until the road is paved.

Drop driveway requests
During annual rehabilitation work in residential areas, residents can request to have a drop driveway (low-slope crossing) installed.
Depending on the type and condition of the sidewalk at the end of your driveway, this work may be completed at expense to you as the homeowner, or it may be covered by the County.
Either way, it can be a convenient and cost-effective opportunity to make changes to the slope of a driveway access.
Learn more and request an estimate.

Phase 2 - Asphalt road improvements
Asphalt (road) improvements will begin approximately one to two weeks after Phase 1 has been completed. During this phase, the roadway is assessed for structural (base) deficiencies. Depending on the condition of the base, one of two methods will be used:
Method 1 – Base reconstruction
This method usually takes about four weeks to complete (weather permitting)
Method 2 – Mill and overlay (can include base repairs)
This method is shorter and takes up to five days to complete (weather permitting)
The contractor will open the roadway as soon as the asphalt has cooled sufficiently for traffic. This typically takes between two to six hours after paving is complete depending on the temperature.

While the road base is being repaired, you should have access to your driveway the majority of the time. There may be some delays if they are working directly in front of your driveway.

During paving operations, the entire road will be closed to traffic and residents will not have direct access to their driveways. The contractor will open the roadway as soon as the asphalt has cooled sufficiently for traffic. This typically takes between two to three hours after paving is complete. We appreciate your patience and understanding throughout this process.

There is a delay between the base work and paving to allow the cement that was added to hydrate and bind the granular materials together. This can take up to 14 days. During this time, the contractor will apply water to the roadway during warm weather to allow the cement to hydrate. Parking will be restricted during this time.

The contractor will clean up the site within seven days after paving is complete.

Pedestrian safety features
In support of the County's Neighbourhood Traffic Safety Action Plan (2017), collector road upgrades also include the implementation of pedestrian safety features, where applicable. Pedestrian safety features could include raised upgrades or curb extensions at multi-use trail crossings, playgrounds, schools and key pedestrian corridors.
Some collector roads also have traffic calming features added as part of the construction process.
The NTSAP was developed to define key actions that can be taken to improve the safety and livability of Strathcona County's residential areas.

Development of the NTSAP included analysis and review of:

Traffic collision and speed/volume data
Results of the 2015 Traffic Safety Survey
Residential traffic safety complaints
Public engagement – both from recent traffic calming projects in the County and in reviewing the NTSAP while in development
Best practices in residential traffic safety
Residential traffic safety initiatives in other municipalities

Things to watch for
Parking and access

Parking will be temporarily restricted during construction
Access to your driveway may be limited
"No Parking" signs will go up 24 hours before construction starts to ensure sufficient notice of parking restrictions
We will remove 'No Parking' signs as soon as they are no longer required
Wherever possible, we will only restrict parking to one side of the street
If you have an RV parked on your driveway and need to remove it during construction, please submit a request through County Connect.

Equipment and signs

Expect equipment in the area until construction is complete
No parking signs and barricades will be placed on lawns and sidewalks
Information signs will be posted with start dates for each phase of construction

Dust and debris

Dust and debris will be present during construction. The contractor will attempt to keep them to a minimum
Loose materials, oil, cement powder and uneven surfaces
Whenever possible, we try to restrict parking to one side of the street. When "No Parking" signs are posted, please park on the open side of the street or on another street. The signs will be removed as soon as they are no longer required.

If you have an RV parked on your driveway and need to remove it during construction, please contact the Project Manager. We will try our best to coordinate it so that you will be able to remove your RV from your driveway.

If you have sprinkler heads or any other items on your property that may require special attention, please let us know by calling 780-417-7100. The contractor will attempt to work around sprinkler heads; however, if a sprinkler head is damaged, the contractor is responsible for repairing the damage within one week of the damage occurring.

Neither Strathcona County, nor the contractor, will be responsible for reimbursing the costs should you choose to have your sprinkler heads repaired by another contractor.

The contractor will ensure that all waste collection can be completed as per the regular collection schedule. Please leave your waste collection bins on your driveway at a safe distance back from any open excavation. DO NOT attempt to cross over an open excavation or wet concrete to leave your bins on the road.

If you have special access requirements please let us know by calling 780-417-7100.
County Connect
Ask it, report it or suggest it using County Connect
Please note: Weather can cause unexpected delays. Although we strive to maintain schedules, timeline changes may be required.