Arterial Road Rehabilitation program
Strathcona County's Arterial Road Rehabilitation program includes upgrades to improve the safety and quality of County roadways, including work on both concrete (sidewalk, curb, medians, etc.) and asphalt.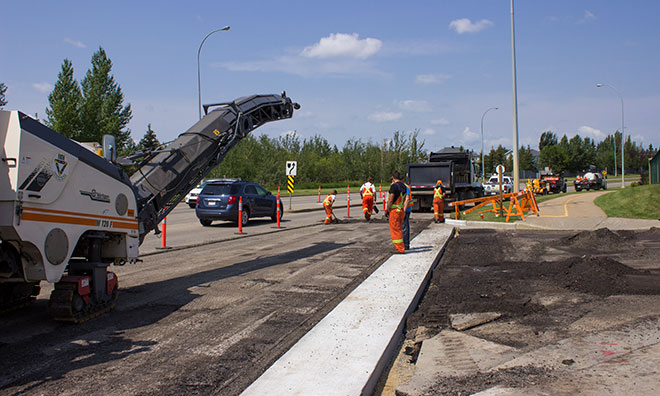 Locations for 2020
The following arterial roads are scheduled for improvements under this program in 2020 (all start dates are tentative):
Broadmoor Boulevard: Underway

From Baseline Road to Sioux Road (southbound)
From Mission Street to Baseline Road (northbound)

Baseline Road: Deferred to 2021

From Broadmoor Boulevard to Sherwood Drive (eastbound only)

Athabascan Avenue: Underway

Between Broadmoor Boulevard and Chippewa Way (both directions)

Sherwood Drive: End of June

Between Main Boulevard and Cranford Way (both directions)
Visit the CountyWorks construction web map to see locations of all projects.
Construction process
The process takes approximately two to three weeks to complete, weather permitting, and is completed in multiple phases.
Phase 1: Removal and replacement of concrete, adjusting existing structures (manholes, water valves, catch basins, etc.)
Phase 2: Milling of the existing asphalt
Phase 3: Asphalt overlay surface course
Phase 4: Line painting, landscaping, etc. 
What to expect
Digital message boards will be placed at least five days prior to the construction start date in order to provide motorists and area residents with notification.
During daytime operations, motorists can expect lane closures, speed reductions, and uneven or rough pavement surfaces.
Milling and paving operations may be completed at night, and will include directional closures, or multiple lane closures with major delays.
County Connect
Ask it, report it or suggest it using County Connect
Please note: Weather can cause unexpected delays. Although we strive to maintain schedules, timeline changes may be required.